Ahead of UN climate fund pledging: V20 Chair Calls on Advanced Economies to Deliver Climate Finance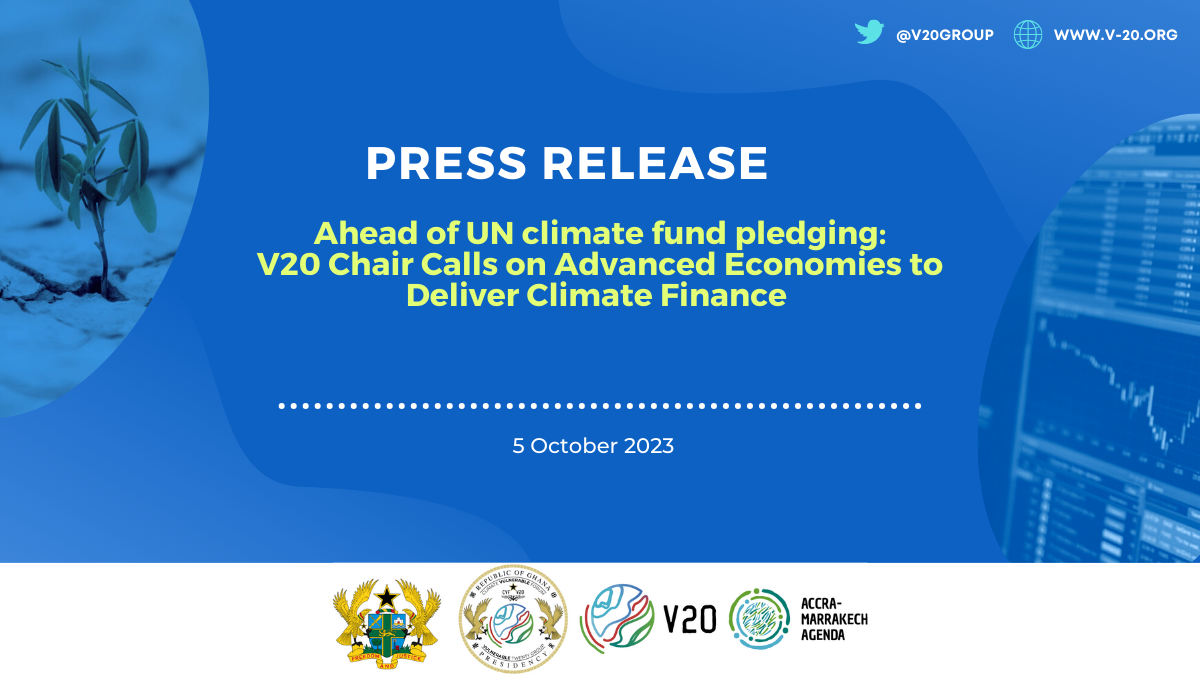 Ahead of UN climate fund pledging:
V20 Chair Calls on Advanced Economies to Deliver Climate Finance 
ACCRA, 5 October 2023 – The Vulnerable Twenty Group of Finance Ministers (V20 Group), representing 68 countries with over 1.74 billion people and USD 3.8 trillion in GDP, have frequently called on developed and high-polluting countries to fully align the international financial system with climate science. Key to this is to deliver the appropriate scale of resources online on time for the October 5 pledging conference for the United Nations' Green Climate Fund (GCF).
Bond spreads on private capital for V20 African countries have pushed upwards to over 900 basis points (9%), further making the cost of capital inhibitive. Debt service costs represent 93 percent of climate finance needs in Africa, where over half of V20 member economies come from.
"Replenishing the Green Climate Fund is the bare minimum in delivering on more climate finance, considering the larger challenge of transforming the global financial architecture," said V20 Chair and Ghanaian Finance Minister Ken Ofori-Atta. "Its replenishment must be anchored on realities consistent with our Climate Prosperity agenda as well as development-positive climate action. This is necessary if we are to transform our economies, deal with escalating debt levels, expand our adaptive capacity and climate resilience, and realize energy transitions that hold warming within the 1.5 degrees Celsius survival limit of the Paris Agreement."
The V20 Group will convene next at the IMF and World Bank Annual Meetings in Marrakech in Morocco, parts of which were ravaged by a 6.8 magnitude earthquake.  The V20 Group will, on the sidelines of the Annual meetings, continue its work on the Accra-Marrakech Agenda during the V20 Ministerial Dialogue XI on October 15, 2023 as it further engages the membership and its development and funding partners on the four fundamental priority areas with the potential to create a  world economy fit-for-climate and supportive of its most vulnerable groups.
"We look forward to working closely with the new leadership of the GCF to deliver on catalytic deals that unlock new long-term sources of capital, especially local currency financing transaction that would be crucial to sustainable adaptation and our climate prosperity plans" he added.
Prior to the pledging conference for its second replenishment (2024-2027), the GCF has received commitments from the Czech Republic ($4.3 million), Austria ($172.9 million), Germany ($2.2 billion), Monaco ($3.6 million), Canada ($333.7 million), Denmark ($232.2 million), the Republic of Korea ($300 million), United Kingdom ($2 billion), Luxembourg ($54 million), France ($1.74 billion), Slovakia ($2.4 million), Slovenia ($1.6 million), Spain ($243.1 million), and Iceland ($3.2 million) amounting to approximately $ 7 billion, which is significantly lower than the total funding from its first replenishment (2020-2023) worth $12.8 billion.
The CVF and V20 re-echoed calls for climate prosperity and debt sustainability at the CVF Leaders' Meeting on the sidelines of the 78th United Nations General Assembly in New York. With CVF Chair and Ghana's Head of State Nana Addo Dankwa Akufo-Addo and the Barbados Prime Minister Mia Amor Mottley leading the meeting alongside the Deputy Secretary General of the UN Amina Mohammed, member states adopted a CVF Leaders' Declaration which included calls for (1) the recognition of the V20 as an official group in the International Monetary Fund (IMF), (2) the tripling of multilateral development bank resources – while enabling regional institutions and strategies to crowd in private sector participation and deliver USD 1 trillion per year, finally (3) the shifting of financial resources away from brown investments that undermine climate action, in order for the world to meet global ambitions on climate change, biodiversity, and sustainable development.
"I also hope that the replenishment of the Green Climate Fund will bring the much-needed grant resources that are vital to address climate mitigation and adaptation and build resilience," UN Deputy Secretary-General Amina Mohammed said at the CVF Leaders' Meeting on September 21, 2023 at the UN General Assembly.
At the Climate Ambition Summit during UNGA, GCF Executive Director Mafalda Duarte announced the "50by30" reform program for the Fund to manage USD 50 billion by 2030 to enhance support for the most vulnerable people and communities and mobilize private sector participation and investments, among other priorities.
The CVF/V20 welcomes this significant intervention and will work closely with GCF to support the CPPs (Climate Prosperity Plans) for member countries.
CONTACTS
Nabiha Shahab, +62 813 1421 3432
Denise Fontanilla, +63 917 851 4890
ABOUT
Ghana is the current Chair of the Climate Vulnerable Forum (CVF) and the Vulnerable Twenty (V20) Group of Finance Ministers. The V20 Group is a dedicated cooperation initiative of economies systematically vulnerable to climate change. The CVF/V20 comprises 68 countries, representing 1.74 billion people and USD 3.8 trillion in GDP. Members of the V20 are:
Africa & Middle East
Benin, Burkina Faso, Chad, Comoros, Côte d'Ivoire, Democratic Republic of the Congo, Eswatini, Ethiopia, The Gambia, Ghana (Chair), Guinea, Jordan, Kenya, Lebanon, Liberia, Madagascar, Malawi, Morocco, Mozambique, Namibia, Niger, Palestine**, Rwanda, Senegal, Sierra Leone, South Sudan, Sudan, Tanzania, Togo, Tunisia, Uganda, Yemen.
**As a UN non-member observer state.
Asia-Pacific
Afghanistan, Bangladesh, Bhutan, Cambodia, Fiji, Kiribati, Kyrgyzstan, Maldives, Marshall Islands, Mongolia, Nepal, Pakistan, Palau, Papua New Guinea, Philippines, Samoa, Sri Lanka, Timor-Leste, Tonga, Tuvalu, Vanuatu, Vietnam.
Latin America & Caribbean
Barbados, Colombia, Costa Rica, Dominica, Dominican Republic, Grenada, Guatemala, Guyana, Haïti, Honduras, Nicaragua, Paraguay, Saint Lucia, Trinidad and Tobago.
Related News
Read the founding documents 8 October 2015, Lima – Finance Ministers of the Vulnerable Twenty (V20), representing close to 700 ...
29-30 March 2016, Washington, DC V20 delegates will meet at Washington DC on 29-30 March for the first time since the foundatio...
13-14 April 2016, Washington, DC Following the 2nd V20 Working Group Meeting held last week, V20 delegates will convene in Wash...