Forum of 68 vulnerable countries call for climate prosperity, debt action at UNGA 78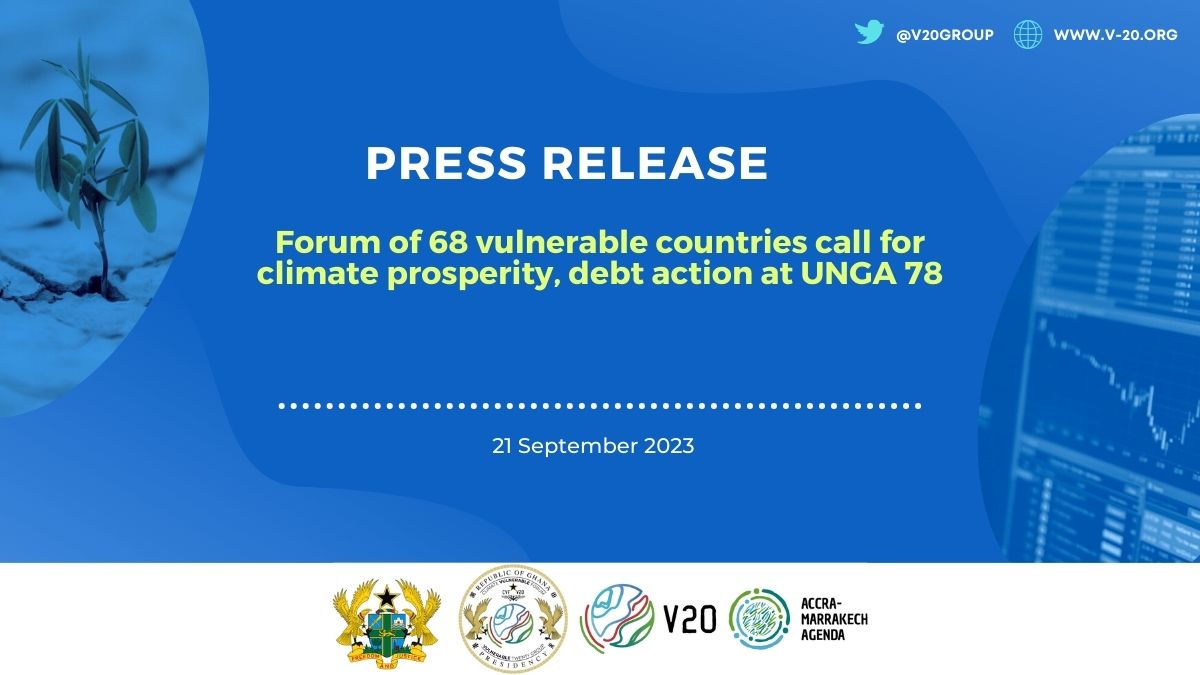 © CVF/V20/ Francis Boanoh
PRESS RELEASE 
Forum of 68 vulnerable countries call for climate prosperity, debt action at UNGA 78
United Nations (UN), NY, 21 September 2023 – Sixty-eight climate-vulnerable countries are driving the agenda here calling for the overhaul of the global financial architecture.
Governments of the Climate Vulnerable Forum (CVF), representing 1.74 billion people and USD 3.8 trillion in GDP, met today on the sidelines of the UN General Assembly to amplify their call for climate prosperity and debt sustainability. Merely surviving the global polycrisis is not enough because the main goal is to thrive.
"It's time we got all hands on deck as we work towards making debt work for climate vulnerable developing economies. It is time to reform the Common Framework to enable all debt distressed climate vulnerable developing economies to obtain debt relief in a predictable, efficient and timely manner, so that CVF/V20 member countries can leverage new financing," said Ghana President and CVF Chair Nana Addo Dankwa Akufo-Addo.
Also leading the meeting are Barbados Prime Minister Mia Amor Mottley and UN Deputy Secretary-General Amina Mohammed also attended the meeting with ministers and high-level officials from CVF members Sri Lanka, Haiti, Bangladesh, Marshall Islands, Rwanda, Kyrgyzstan, Maldives, Philippines, and South Sudan, as well as G20 members France, United Kingdom, and Mexico.
"No country should have to choose between poverty and fighting for the planet. We need a financial stimulus with more public resources to support vulnerable economies. The truth is that we are fighting battles on climate that we didn't create," said Prime Minister Mottley. "I support the commitment to establish an independent Secretariat of the CVF and V20. If ever there was a need to focus on vulnerability in a strategic way, it is now. I also express Barbados' interest to become the CVF Chair."
Member governments adopted the CVF Leaders' Declaration, which called for the following:
(1)   Recognition of the CVF's Vulnerable Twenty Group of Finance Ministers (V20) as an official group in the International Monetary Fund;
(2)   Tripling of multilateral development bank resources while enabling regional institutions and strategies to crowd in private sector participation to deliver USD 1 trillion per year, as well as the shifting of financial resources away from brown investments that undermine climate action, in order for the world to meet global ambition on climate change, biodiversity, and sustainable development;
(3)   Addressing the rapidly growing debt risks and immediate liquidity needs of vulnerable countries, recognizing that the V20 Group alone has accumulated  USD 686 billion in total external public debt, amounting to 27 percent of the Group's GDP;
(4)   Acceleration of a just energy transition that promotes equity and inclusion alongside job creation and infrastructure growth;
(5)   Increasing funding for adaptation and loss and damage from climate-related disasters and growing climate-fueled risks;
(6)   Protection of economies from climate impacts through the V20 and G7 Global Shield against Climate Risks and other pre-arranged and trigger-based finance and insurance tools; and
(7)   Establishment of a fully independent secretariat for the CVF and the V20.
"We have seen the negative effects of climate change, the damages done by climate shocks represent two percent of our economy. This impacts our understanding of sustainable development. Our level of debt and the level of loss and damages linked to climate change necessitates an urgent financing sent to our countries to face climate change consequences. So, we support the scaling of a global financial infrastructure that will allow the mobilization of funds in order to reinforce the resilience and the sustainability of these countries facing climate shock," said Jean Victor Geneus, Haiti Minister for Foreign Affairs and Worship, in behalf of Prime Minister Ariel Henry.
The CVF meeting was co-organized by the V20, represented by its Chair, Ghana Finance Minister Ken Ofori-Atta, and sponsored by the Ghana Permanent Mission to the UN. Other ministers and ranking officials of the CVF and V20 members, key partner countries and philantrophies also joined the meeting at the UN headquarters.
"It's time we decisively eliminate the false conflict between climate and development. Sri Lanka considers its climate targets – our climate ambition – as the essential investment vehicle that will help drive growth and power Sri Lanka's efforts to modernize and realize its Sustainable Development Goals," President Ranil Wickremeshinghe stated in remarks delivered by Sandith Samarasinghe, Consul General of Sri Lanka in Melbourne, Australia with jurisdiction over the States of Victoria, South Australia and Tasmania.
"We need to look to see how an unjust financial divide is at the center of this tragic failure. Developing economies and vulnerable countries are severely constrained by crippling debt burdens, limited fiscal space and high borrowing costs. We can forge a more resilient global financial architecture that empowers nations. The time is now to keep that promise," said UN Deputy Secretary-General Mohammed.
REFERENCE DOCUMENT
CVF Leaders' Declaration Adopted in New York on 21 September 2023
CONTACTS 
Denise Fontanilla, +63 917 851 4890, +1 646 389 2998 (on site, ET/GMT-4)
Nabiha Shahab, +62 813 1421 3432 (WIB/GMT+7)
NOTES TO THE EDITOR
Photos and videos
Photos can be accessed in this folder and can used with credit: © CVF/V20/Francis Boanoh
About the CVF and V20
The Climate Vulnerable Forum (CVF) is an international partnership of countries highly vulnerable to a warming planet. The Forum serves as a South-South cooperation platform for participating governments to act together to deal with global climate change. Ghana is the current Chair of the CVF and its Vulnerable Twenty (V20) Group of Finance Ministers, a dedicated cooperation initiative of economies systematically vulnerable to climate change. Both the CVF and V20 are composed of 68 countries, representing some 1.74 billion people and USD 3.8 trillion in GDP. Their members are:
Africa & Middle East
Benin, Burkina Faso, Chad, Comoros, Côte d'Ivoire, Democratic Republic of the Congo, Eswatini, Ethiopia, The Gambia, Ghana (Chair), Guinea, Jordan, Kenya, Lebanon, Liberia, Madagascar, Malawi, Morocco, Mozambique, Namibia, Niger, Palestine**, Rwanda, Senegal, Sierra Leone, South Sudan, Sudan, Tanzania, Togo, Tunisia, Uganda, Yemen.
 **As a UN non-member observer state.
Asia-Pacific
Afghanistan, Bangladesh, Bhutan, Cambodia, Fiji, Kiribati, Kyrgyzstan, Maldives, Marshall Islands, Mongolia, Nepal, Pakistan, Palau, Papua New Guinea, Philippines, Samoa, Sri Lanka, Timor-Leste, Tonga, Tuvalu, Vanuatu, Vietnam. 
Latin America & Caribbean
Barbados, Colombia, Costa Rica, Dominica, Dominican Republic, Grenada, Guatemala, Guyana, Haïti, Honduras, Nicaragua, Paraguay, Saint Lucia, Trinidad and Tobago.
Related News
Read the founding documents 8 October 2015, Lima – Finance Ministers of the Vulnerable Twenty (V20), representing close to 700 ...
29-30 March 2016, Washington, DC V20 delegates will meet at Washington DC on 29-30 March for the first time since the foundatio...
13-14 April 2016, Washington, DC Following the 2nd V20 Working Group Meeting held last week, V20 delegates will convene in Wash...