Global Shield against Climate Risks passes further milestone to better support the most vulnerable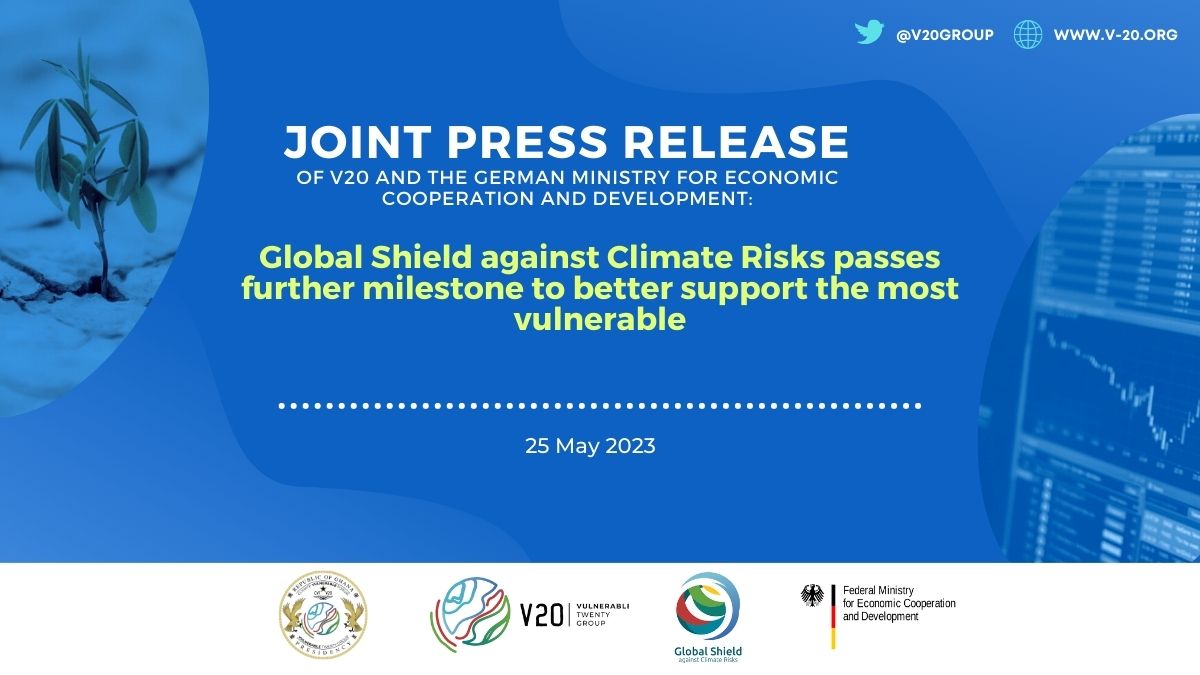 Joint press release of Vulnerable Group of Twenty (V20) and the German Ministry for Economic Cooperation and Development (BMZ), 25 May 2023 – The governing body of the InsuResilience Global Partnership decided on the Global Shield's operating model today. This is a big step from the initial idea conceived one year ago, to agreeing on the concept and launching it last fall, to making the Global Shield fully operational now. The meeting took place on the sidelines of the African Development Bank Group Annual Meetings in Sharm el-Sheikh, Egypt. Leadership adopted the Global Shield Governance Structure, agreed on the details of the respective in-country processes and endorsed the framework for country prioritization. These decisions are crucial for effectively supporting vulnerable countries in responding to losses and damages from extreme weather events. They aim at systematic (focus on the most urgent needs), coherent (interplay of different actors and instruments) and sustained protection against climate risks for vulnerable countries and people.
The Global Shield against Climate Risks was launched at COP27, building on a joint effort by the G7 and the Vulnerable 20 Group (V20), and contributes to international efforts to avert, minimise and address climate-related losses and damages through better prearranged finance and resulting financial protection. Today's meeting was chaired by Seedy Keita, Minister of Finance and Economic Affairs of The Gambia, and Dr. Bärbel Kofler, Parliamentary State Secretary to the German Federal Minister for Economic Cooperation and Development. With African Development Bank Group's Vice President Beth Dunford and V20 Presidency Representatives, two key players for international climate policy in 2023 welcomed the efforts of the Global Shield. This represents a powerful message in the run-up to COP28 advancing the discussion on the operationalization of funding arrangements including a fund for responding to loss and damage.
Beth Dunford, Vice President, African Development Bank Group said: "Climate-induced shocks represent one of the biggest threats to Africa's socio-economic development. As Africa's premiere development institution, we're pleased the Global Shield against Climate Risks governing body choose the sidelines of the African Development Bank's Annual Meetings to discuss financial solutions to mitigate climate change-impacts in Africa and around the world. Given our shared vision of building resilience to climate shocks, the African Development Bank is looking forward to exploring collaboration opportunities with the Global Shield against Climate Risks."
H.E. Seedy Keita, Minister of Finance and Economic Affairs of The Gambia: "As climate vulnerable countries, we feel the climate crisis threatening our very existence almost every day. The climate crisis has become a climate emergency for us long ago and it does not allow us to wait any longer to act. Comprehensive reforms of the global financial system are needed urgently to unlock the necessary public international and development finance as well as mobilize innovative and private sector finance. This also requires nothing less than the revolution of risk management to make it fit-for-purpose for our climate insecure world economy. The G7-V20 Global Shield against Climate Risks represents a landmark contribution to these needs and I encourage all our partners to join in."
Hon. Bärbel Kofler, Parliamentary State Secretary to the Federal Minister for Economic Cooperation and Development: "Germany stands by its responsibility to support vulnerable people and countries in dealing with loss and damage. As last year's G7 presidency, Germany launched the Global Shield against Climate Risks together with the most vulnerable countries. The Shield is designed as a long term contribution to the financing arrangements to react to climate-related losses and damages. With today's decisions, the Global Shield against Climate Risks has the formal set-up to contribute to tackling the challenges of climate disasters. This initiative is a great example of international cooperation between North and South that will produce concrete results."
Hon. Mohammed Amin Adam, Minister of State for the Ministry of Finance, Ghana: "The V20's co-leadership of this important vehicle promises to facilitate for Climate Vulnerable Countries the deployment of real financial protection solutions for our economies, our enterprises, and our communities, as we grapple with a 98% financial protection sinkhole. Earlier this year, we shared the Accra-Marrakech Agenda roadmap, which calls for deep reforms of the international and development finance system where anticipatory financing instruments like the Global Shield plays a key role in revolutionizing risk management. The conclusion of the operating model today is a major accomplishment for us all."
Further information:
All documents that have been endorsed are available online. Further Details on the Global Shield can be found on the website: www.globalshield.org