V20 Finance Ministers create pathways for massive sustainable investments in climate vulnerable economies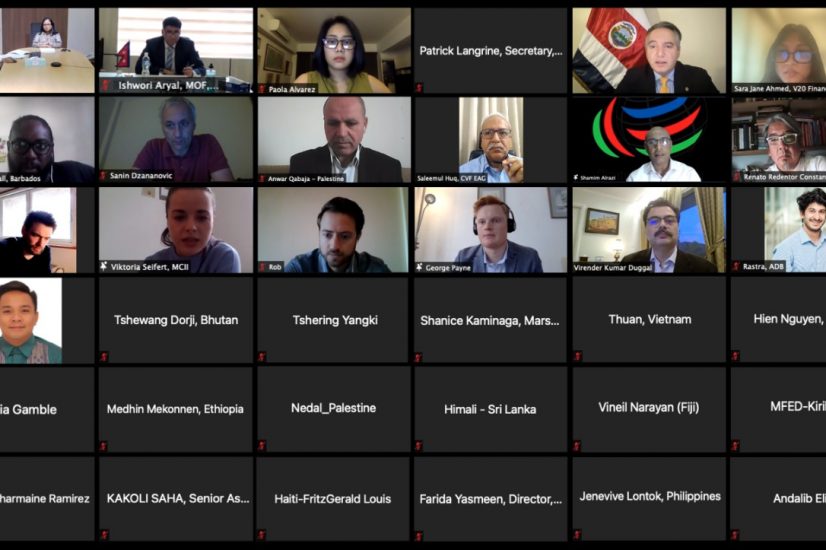 29 March 2021 — The V20 Group of Finance Ministers from climate vulnerable economies has unveiled a series of investment packages, through its Climate Prosperity Plans, aimed at attracting capital towards infrastructure, energy, transport, agriculture and financial services that correspond with the global economic transformation mandated by the Paris Climate Treaty.  The V20 held its annual Senior Official's Meeting  virtually on 23 March 2021 and discussed new economic stimuli centered around solutions to climate risks.
Latest studies show that on energy transition alone, an estimated $131 trillion is needed globally to comply with the Paris Treaty's 1.5C target, a significant portion of such investment must be deployed in V20 member economies, according to IRENA (1). In addition, the OECD says up to $6.9 trillion a year is needed until 2030 for global infrastructure upgrades to be compatible with the climate treaty (2).
Dr. Nahid Rashid, Additional Secretary who represented the Economic Relations Division, Ministry of Finance of the People's Republic of Bangladesh said that "the world needed a transformative strategy on economic progress, one that would bring the people continued prosperity along with tasting protection for societal and environmental well-being."
Since Bangladesh is the chair of the V20 Group of Finance Ministers, Dr. Rashid mentioned that Bangladesh would take on the leadership role in establishing and promoting the Climate Prosperity Plan to address poverty, livelihoods, and economic progress. She hoped that the world would follow the example for achieving better economic transformation.
The V20's Climate Prosperity Plan Program enables country-specific development plans that integrate socio-economic development and climate agendas. They are purpose-built to expand finance mobilization across a range of sources for robust socio-economic progress and reduce emissions while building greater climate and disaster resilience through development assistance mainly grant and investments for adaptation, disaster risk reduction and mitigation, as well as safeguarding SDG progress to 2030.
The V20's Climate Prosperity Plan's objectives include the following:
Provide an investment pathway for infrastructure projects and economic programs to accelerate low-carbon growth, build greater climate resilience and also boost socio-economic development
Serve as a platform for the CVF/V20 to mobilize support from development partners and through South-South cooperation to ensure the investments are underwritten, funded and realized
Provide a corpus of projects for each participating CVF/V20 member country to benefit from V20 financing programs to overcome high capital costs and provide financial protections against climate risks
Future-proof competitive positioning in the global supply chain and drive foreign direct investment to modernize industries and infrastructure, and enhance manufacturing and service capacity.
Underpin the ambition of new Paris Agreement NDCs called for from all countries by the end of 2020 provided robust international support is mobilized for their realization
Inspire greater action by the international community to secure the 1.5 degrees Celsius target of the Paris Agreement, evolve public discourse to better understand the possibilities of climate prosperity, and accelerate economies of scale of climate-smart solutions for improved long-term sustainability of climate efforts
V20 countries are engines of global growth with consistently high average rates of economic expansion exceeding 5% per year. Since the Paris Agreement took effect, it became clear that growing exposure to climate risks creates instability in the world economy. What affects V20 economies will increasingly impact the world economy, just as the V20 bears the brunt of the impacts of climate change-fueled loss and damages and concurrent global crises such as the COVID 19 pandemic.
ABOUT
Formed in 2015, the V20 Group of Finance Ministers is a dedicated cooperation initiative of economies systematically vulnerable to climate change. It is currently chaired by the People's Republic of Bangladesh. The V20 membership stands at 48 economies including Afghanistan, Bangladesh, Barbados, Bhutan, Burkina Faso, Cambodia, Colombia, Comoros, Costa Rica, Democratic Republic of the Congo, Dominican Republic, Ethiopia, Fiji, The Gambia, Ghana, Grenada, Guatemala, Haiti, Honduras, Kenya, Kiribati, Lebanon, Madagascar, Malawi, Maldives, Marshall Islands, Mongolia, Morocco, Nepal, Niger, Palau, Palestine, Papua New Guinea, Philippines, Rwanda, Saint Lucia, Samoa, Senegal, South Sudan, Sri Lanka, Sudan, Tanzania, Timor-Leste, Tunisia, Tuvalu, Vanuatu, Viet Nam and Yemen.
MEDIA CONTACT:
Nabiha Shahab, media@v-20.org
www.V-20.org
@V20Group
NOTES EDITORS
1)    https://www.irena.org/newsroom
2)    https://www.oecd.org/environment/cc/climate-futures/policy-highlights-financing-climate-futures.pdf
Related News
2 December 2023, DUBAI: The Climate Vulnerable Forum and V20 Finance Ministers today held a stocktake of reforms in the internatio...
1 December 2023, DUBAI: Barbados has been selected to host the next presidency of the Climate Vulnerable Forum (CVF), a group of 6...
11 November 2023, DUBAI: The Climate Vulnerable Forum's (CVF) Founder, former Maldives president Mohamed Nasheed, met yesterday wi...