Philippines Energy Policy Review Sets Green Economy Shift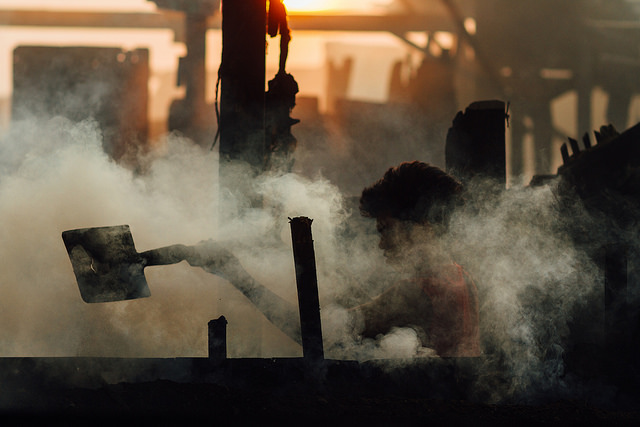 Photo Caption: Man Shoveling Charcoal, Smokey Mountain Manila. Photo Credit: Adam Cohn via Flickr. Photo Licence: CC BY-NC-ND 2.0
Manila, Philippines – Friday, 3 June, 2016 – Finance Secretary Cesar V. Purisima welcomed President Benigno S. Aquino III's call for a sweeping review of Philippine energy policy, setting the path for a whole-of-nation approach away from carbon and towards green energy development.
As chair of the V20 Group, now expanded to 43 countries most systemically vulnerable to the consequences of climate change, Purisima has called for a rethinking of the global economy through V20 initiatives like climate accounting and carbon pricing.
"Apart from its human costs—which ought to be a convincing enough reason for decisive global action in and of itself—climate change is a dead weight to the global economy. Business as usual no longer presents a strong business case for anyone. Shifting to clean, renewable energy is the best investment we can make for our future.
To this end, the V20 Group is developing concrete ways to reorder incentive structures governing human behavior in the global economy. Changing how we value and price the costs of human (in)action to climate change ought to make a green energy shift the only sensible choice to make for everyone," Purisima said.
Climate change-related disasters have claimed over 1.35 million lives in total and affected an average of 218 million annually over the past 2 decades. Developing countries bear more than half the economic impact of climate change over 80% of its health impact, with annual climate change-related economic costs of $44.9 billion projected to increase ten-fold by 2030.
According to the Global Partnership for Preparedness, a group recently launched by V20 and several UN agencies, the global economic impact of climate change since 2005 has breached $1.3 trillion.
Purisima earlier emphasized this in his keynote address at the Future of Asia Conference in Tokyo, where he cited studies showing how climate change has already held back global development by close to 1% of the world GDP. Purisima also referred to a paper published in the scientific journal Nature estimating that overall economic production would fall by about 23 percent by 2100 if the climate keeps changing under the current models. The study also projected that climate change would reduce average incomes in the poorest 40 percent of countries by 75 percent in 2100, while making 43% of the global population poorer in 2100 than today.
"While we in the V20 Group work with experts and multilaterals on risk pooling mechanisms as well as other mitigation and adaptation measures, it is important for developing economies to get efficient access to financial resources to adapt and shift towards a green economy." Purisima has been vocal in leading the V20 in advocating for swifter progress towards the achievement of the joint $100 billion developed country commitment for support to developing countries via the Green Climate Fund.
"Transitioning towards a green economy requires a lot of money, we must admit. It costs even more for developing countries. But the cost of saving our planet can never be more than the cost of losing it. This is why we need global collaboration on climate finance to fund a more sustainable future," Purisima added.
Related News
PRESS RELEASE  Forum of 68 vulnerable countries call for climate prosperity, debt action at UNGA 78 United Nations (UN), NY,...
Terms of Reference: Co-Director of the Global Shield Secretariat, responsible for Global Strategy and Engagement Summary ...
GRAPHIC: V20 senior officials from 35 different countries meet virtually on September 12, ahead of the CVF Leaders Meeting at the ...