V20 to hold Ministerial Dialogue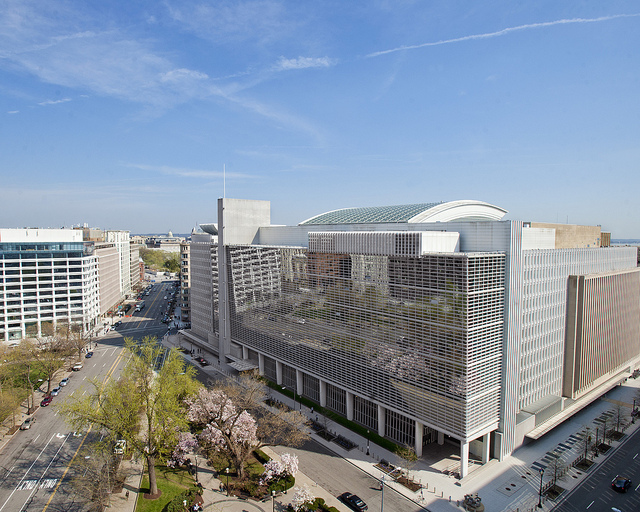 Photo Caption: World Bank headquarters. Washington DC. Photo Credit: Deborah W. Campos / World Bank. Photo Licence: CC BY-NC-ND 2.0
13-14 April 2016, Washington, DC
Following the 2nd V20 Working Group Meeting held last week, V20 delegates will convene in Washington DC for the 2nd V20 Preparatory Deputies/Senior Officials Meeting and the 2nd V20 Ministerial Dialogue on 13th and 14 April 2016 respectively. The meetings will affirm the V20's commitment to the Paris Agreement, calling for a path towards the 1.5 degrees Celsius limit and greater financial protection for climate change impacts.
The Ministerial meeting of the V20 is considering a Work Plan and extending commitments to pioneer and deploy financial and fiscal solutions to climate change. The V20 Risk Pooling mechanism will be a focus of discussion, along with progress on the 2020 Action Plan to mobilise unprecedented investment from all sources beginning with national finance dialogues and building partnerships with private sector partners. A V20 Communiqué will be issued at the conclusion of the event.
The V20 2nd Ministerial Dialogue will also see confirmation of new CVF member countries as V20 members.
Participation in the 2nd Preparatory Deputies/Senior Officials Meeting and the 2ndMinisterial Dialogue is by invitation only and subject to registration for the World Bank and IMF Spring Meetings. Accredited media will be invited to attend a segment of the 2ndMinisterial Dialogue meeting. Admission to the V20 with Business reception is by invitation only.
Related News
29 September 2021 – The V20 Group of Finance Ministers concluded its Senior Officials Meeting yesterday with a call on the Interna...
The IDF and the Vulnerable 20 (V20) Group of Ministers of Finance announced their intention to advance on the creation of the Glob...
48 most vulnerable economies demand "2020-2024 delivery plan" for the missing $100 billion annual Paris Agreement climate as...