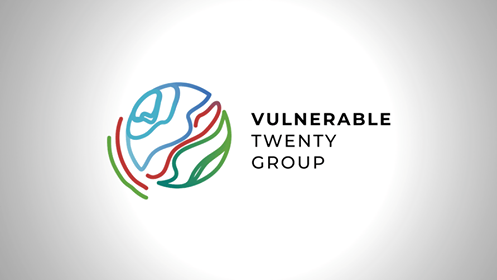 2nd V20 Ministerial Dialogue
The second gathering of the Group of Ministers of Finance of the Vulnerable Twenty (V20).
Chaired by H.E. Cesar V. Purisima, Hon. Secretary of Finance of the Philippines
Ministers/heads of delegation of the V20
Guest speakers:
Sri Mulyani Indrawati, Managing Director and Chief Operating Officer, World Bank Group
Min Zhu, Deputy Managing Director, Inernational Monetary Fund
Wu Hongbo, Under-Secretary-General for Economic and Social Affairs, Department of Economic and Social Affairs, United Nations (UN)
Bambang Susantono, Vice President, Asian Development Bank (ADB)
Michael O'Neill, Assistant Administrator and Director of the Bureau of External Relations and Advocacy, United Nations Development Programme (UNDP)
Halldór Thorgeirsson, Director for Strategy, United Nations Framework Convention on Climate Change Secretariat
Spencer Lake, Global Head of Capital Financing (Global Banking and Markets), HSBC United Nations Assistant Secretary-General on Climate
Program: Provisional Agenda (English, Pdf, 0.2mb)
Participation is by invitation only and subject to registration for the World Bank and IMF Spring Meetings. Accredited media will be invited to attend a segment of the meeting.
Download the V20 Ministerial Communique (English, Pdf, 0.3mb)