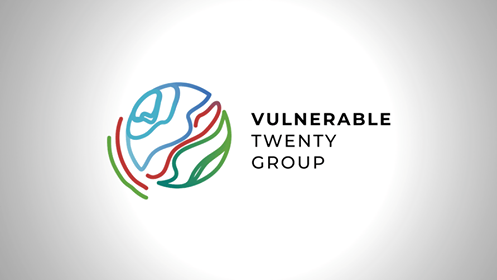 V20 Meetings at Addis Ababa
The V20 held a series of meetings in conjunction with delegates of the Climate Vulnerable Forum meetings on Monday 27 and Tuesday 28 August 2018 in Addis Ababa, Ethiopia.
The meetings included the V20 Focus Group Meetings III, an inception discussion on the V20 Joint Technical Committee Meeting on Multi-Country Financing Initiatives, a joint CVF-V20 Troika Meeting, and a High Level CVF-V20 Presidency Handover Reception. The event saw the participation of V20 Delegates, CVF Delegates, Technical Partners and expert invitees. The presidency handover marked the conclusion of Ethiopia's two-year presidency of the CVF and V20 and its handover to the Marshall Islands, now new CVF and V20 Chair.
Read the press release regarding the handover of chairmanship from Ethiopia to the Marshall Islands.
The meetings focused on reporting from the V20 Chair on progress on 2017-2018, the V20 Work Plan inclusive of the InsuResilience Global Partnership (IGP) and green finance. The meeting also discussed reporting from the CVF Chair on 2017-2018 activities.
Meeting Outcome Documents
Following the meeting, the following outcomes will be made available to V20 members/partners:
Summary Report of the V20 Focus Group Meetings III
V20 Focus Groups Key Milestones 2018-19
Summary Report of the CVF-V20 Troika Meeting
V20 Advocacy and Engagement Plan