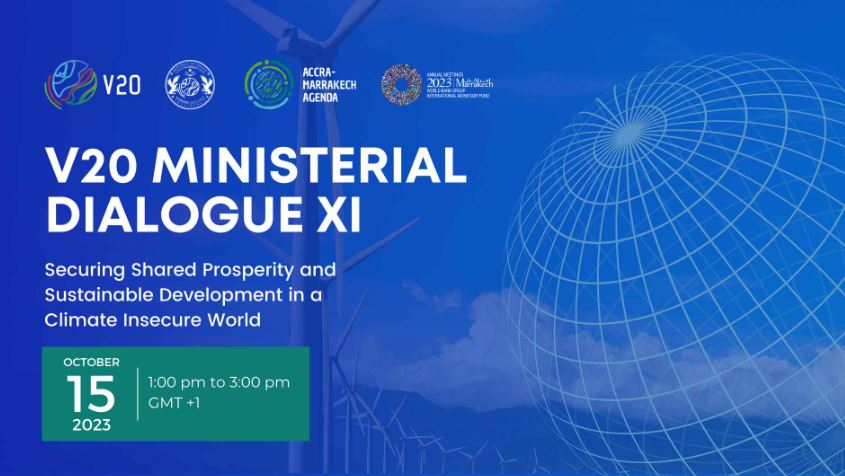 V20 Ministerial Dialogue XI
HIGH LEVEL MEETING
"Securing Shared Prosperity and Sustainable Development in a Climate Insecure World"
October 15 2023 | 1:00pm – 3:00pm GMT +1
In-Person in BA01 Tanger, Bab Ighli,
Marrakech, Kingdom of Morocco
IMF/World Bank Annual Meetings
Principal forum of the Vulnerable Twenty Group of Finance Ministers, co-hosted by the International Monetary Fund (IMF) as part of the World Bank and the IMF Annual Meetings. The high-level dialogue of V20 finance ministers chaired by the Minister for Finance of Ghana (V20 Chair) with invited partners, including international organizations, the G7 and the G20, will adopt a Ministerial Communique spanning principal concerns and opportunities, as well as initiatives of V20 member economies. The meeting will issue a call to action on macro critical concerns to enable prosperity, sustainable development, and debt sustainability through development–positive climate action as individual members and in concert as the V20 Group.
The Ministerial Dialogue is a principal platform for finance ministers from the most climate vulnerable economies to advance a high ambition agenda, which will establish a fit-for-climate global financial architecture that will strengthen international cooperation to achieve climate prosperity and to advance global strategies that will catalyze development-positive climate action within the decade.
The V20 Ministerial XI will:
Call for the global financial system to immediately align with climate science through the Accra-Marrakech Agenda, which represents longer term reform with immediate application while advancing critical improvements, including those identified in the Bridgetown Initiative 2.0;
(i) reforms of the international financial architecture to make debt work for the most vulnerable and to overcome the cost of capital hurdles for climate investment;
(ii) transformation of the international and development finance system
(iii) a global deal on carbon financing; and
(iv) a revolution in risk management through universal risk surveillance and pre-arranged and trigger-based funds.
Adopt a high-level dialogue communique reflecting the V20 call to action and V20's principal concerns;
V20 members to support next steps outlined in the CVF Leaders Declaration towards an Independent Secretariat;
Build support across all stakeholders aimed at securing recognition by the IMF of the V20 as an official group; and
Welcome 10 new V20 members and bring together V20 Finance Ministers to discuss and strategize on the economic and financial consequences and opportunities presented by the climate crisis, especially as it relates to public and international finance as well as the implementation of V20 Climate Prosperity Plans.
The following key outcomes are envisaged from V20 Ministerial Dialogue XI:
V20 Finance Ministers dialogue and discussions with MDBs, IFIs, international development partners including the G7 and G20;
Consensus and coalition building on key macro-critical issues affecting climate vulnerable V20 member states;
Establish official recognition by the IMF for V20 as an official group at the Fund;
Recognize progress towards the Independent Secretariat; and
Adoption of a high-level meeting communique highlighting shared challenges, opportunities and V20 efforts with partners, along with a call to action.