GFLP in Support of Net Zero: Roadmap for Sustainable Finance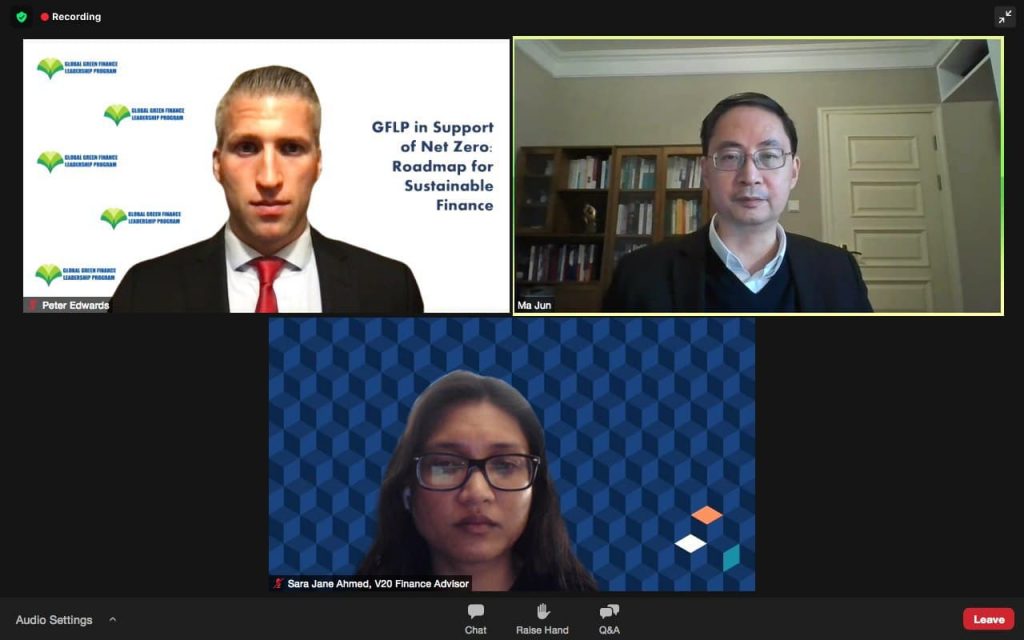 7th-8th October 2021
Global capital today is fleeing fossil fuels and moving towards more profitable sustainable energy systems. More and more lenders are switching and redirecting their finance and insurance away from fossil fuels exposures. Board room decisions made on economic grounds are clearly betting on the future.
The withdrawal of fossil fuel energy support by China, the UK and other countries needs to be immediately matched with strong backing for renewable energy, storage, and modernized grids built on flexible power generation. The faster the transition is, the greater the generation of job opportunities, which means we also get to bake in robust public support for bold action.
Climate vulnerable countries are putting forward "survive and thrive" strategies to hasten economic and market transformation towards resilience. In their country-driven Climate Prosperity Plans, vulnerable countries envision low carbon, climate resilient development to be fully baked into their economies by 2030, optimizing prosperity, partnerships, and robust public ownership in support of long-term strategies and goals. The roadmap by the G20 Sustainable Finance Working Group as mentioned by Dr Ma Jun and the Global Green Finance Leadership Program (GFLP) will be an important compass for this.
Investment opportunities for clean and cost-competitive energy point to a vast and still growing array of options that harness new energy technologies and investments in resilience. They provide China and Southeast Asian countries a historic opportunity to work closely together with climate vulnerable countries and other major economies like the UK. Because when they do so, they will all share a common objective: to strengthen climate-centered investments and trade, promote and accelerate technology transfer, reduce the cost of capital that is delaying or dampening climate ambition, help modernize and revamp power grids, and build resilient, inclusive, and responsive infrastructure.
Integrated climate action and investment plans can and will maximize prosperity, but we need to all act with a far higher sense of urgency. The sessions today, especially on financial support for biodiversity preservation and transition finance, will be critical to efforts aimed at investing our economies out of the climate crisis.
As we move forward, key issues facing climate vulnerable countries need to be at the center of our considerations, specifically persistent cost of capital challenges and the looming debt crisis. No one in the financial industry, donor governments and host nations wish to be left with stranded assets. If left unaddressed, we know it will lead, sooner or later, to credit default situations brought about by infrastructure damage from climate disasters, shifting project economics and complex transition risks. This is therefore a role banks and the financial sector should take on in order to tackle cost of capital issues while boosting the sustainability of infrastructure they support. These are the key elements that, together, will drive global transformation in this decade. It's time to roll up our sleeves, dear colleagues.
With 1.2 billion people in the V20, 655 million people in Southeast Asia and 1.4 billion people in China, they already make up at least one third of the whole world's population, and shared prosperity will be a strong pillar for the global community.
Related News
PRESS RELEASE  Forum of 68 vulnerable countries call for climate prosperity, debt action at UNGA 78 United Nations (UN), NY,...
Terms of Reference: Co-Director of the Global Shield Secretariat, responsible for Global Strategy and Engagement Summary ...
GRAPHIC: V20 senior officials from 35 different countries meet virtually on September 12, ahead of the CVF Leaders Meeting at the ...