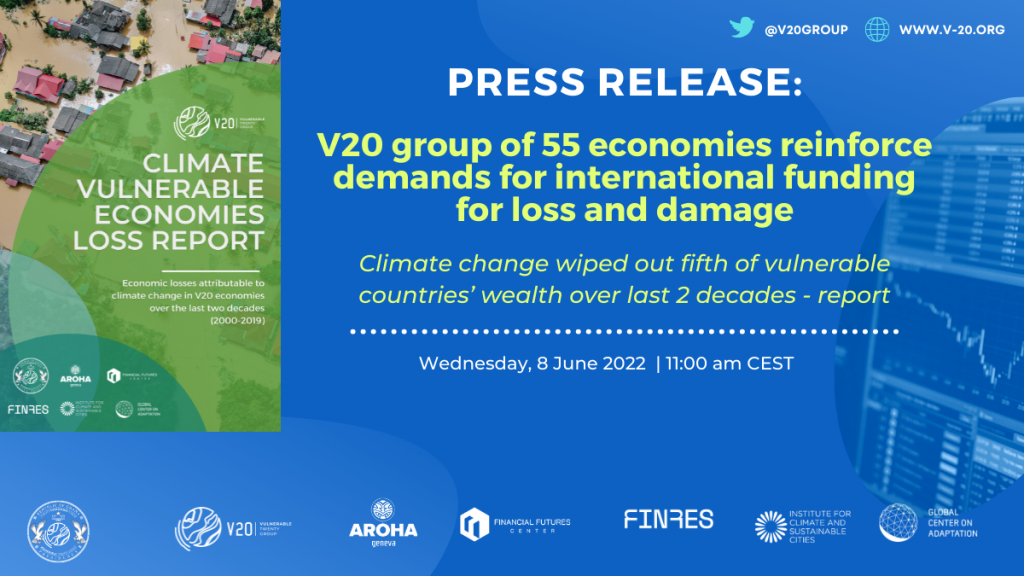 Climate change wiped out fifth of vulnerable countries' wealth over the last 2 decades – V20 Report
BONN, Germany, 8 June 2022 – The V20 Group of Finance Ministers from climate vulnerable economies are calling for the immediate establishment of a separate and dedicated international funding for loss and damage crisis-level adaptation action. A V20-commissioned report launched today alongside the UN climate talks in Bonn, Germany, shows how climate change has already eliminated one fifth of the wealth of these countries, or 525 billion USD, over the last two decades.
The report, titled "Climate Vulnerable Economies Loss Report: Economic losses attributable to climate change in V20 economies over the last two decades (2000-2019)", shows that for the top ten percent of worst at-risk of the V20 countries, economic losses due to climate change for the past two decades are estimated to exceed half of all growth. The analysis provides the first ever estimate of the economic losses attributable to anthropogenic climate change only.
Economic losses cut GDP growth in the V20 by one full percent each year on average which averaged 3.67% in 2019 across the vulnerable economies. From 2000 to 2019, the report estimated economic losses due to hydro-meteorological extreme events are higher than the previous two decades and the world's most vulnerable economies are also not adapting fast enough to cope with the changing climate as it currently stands [1].
Though the study analysed historical economic losses, it also highlighted that these losses will continue to increase given the earth's warming is set to progress to within 1.5 degrees Celsius in the next decade regardless of further actions to reduce emissions. It noted that losses due to climate change have been growing over time, underscoring that countries are not adapting fast enough.
Hon. Kenneth Nana Yaw Ofori-Atta, Ghana Finance Minister, said: "This should sound alarm bells for the world economy, since V20 are fast-growing engines of global economic growth, whereas the climate crisis has the potential to bring that phase to an end if the world fails to act. The failure on the $100 billion of international climate finance delivery, particularly the failure to ensure a 50:50 balance for adaptation, has left us highly exposed. Meeting and exceeding the COP26 agreed Delivery Plan to make-up shortcomings on the $100 billion and to double adaptation finance by 2025 are therefore absolutely crucial to our and the world's economic well-being. But it is no longer enough."
Minister Ofori-Atta added: "As a matter of pragmatism and justice, the V20 and Climate Vulnerable Forum are calling on COP27 to establish an international financing mechanism for climate change loss and damage in solidarity with victims least responsible for, and least equipped to withstand, the increasingly extreme physical shocks driven by climate change."
Due to a lack of international support and implementation for adaptation, resilience, and loss and damage, the V20 highlighted that its finance ministries and local communities are already allocating an alarmingly significant and growing proportion of their public budgets to cover rapidly growing loss and damage costs, which diminishes scarce resources intended to support critical economic and development strategies in education, public health, nutrition, energy access, and jobs formation.
Dr. Michiel Schaeffer, chief scientist at finres, author of the study, explained: "At 1.1°C of warming, the majority of V20 countries have already reached their optimum temperature – any further warming beyond this will cause an acceleration in the loss and damage experiences by societies – this report is an also urgent call for more stringent mitigation action in line with keeping global mean temperature increase below 1.5°C"
Florent Baarsch, CEO of finres, who led the study, further explained: "The results are extremely novel, they built on new peer-reviewed scientific methods and data that did not exist less than a year ago. The findings are a stark reminder that climate change is not a future phenomenon but a present one that already leads to negative consequences on societies. It is urgent that mitigation, adaptation and loss and damage make significant progress in the negotiations to reduce already observed losses and mitigate their risk of occurrence into the future."
Prof. Dr. Patrick Verkooijen, CEO of the Global Center on Adaptation, which hosts the V20 secretariat, stated: "While countries work hard to find enough ambition to reduce emissions within Paris Agreement bounds, the climate emergency has become the lived reality that is devastating lives around the globe. Acceleration adaptation at speed and at scale is a solution we have at hand right now to reduce loss and damage. It is not only proven to work but it is also a smart investment that will continue to pay off."
At its V20 Ministerial Dialogue in April of this year, the V20 resolved to pioneer its own loss and damage funding mechanism. The group has allocated and mobilised funds from the philanthropic community including through their own CVF & V20 Joint Multi-Donor Fund to channel resources directly into the worst affected communities of the V20 with small-scale grants. [2]
Dr​​ Seth Ofaso, Ghana CVF Presidency Envoy to the UNFCCC stated: "The $100 billion commitment under the Paris Agreement is for mitigation and adaptation. When this was first negotiated over a decade ago, recognition of loss and damage was not what it is today. It is untenable that the world's rich and responsible nations continue to refuse the poor, vulnerable and least responsible nations support for the crushing costs that we bear because of inaction on the climate crisis."
Ghana highlighted how the V20 and Climate Vulnerable Forum (CVF) are working unitedly for COP27 in Egypt later this year to deliver concrete results in terms of establishing international funding for loss and damage through a dedicated new instrument.
Dr​​ Ofaso concluded: "What the V20 can do on its own is limited and only makes sense if the world's rich, powerful and climate change responsible nations can be inspired by the V20's breakthrough efforts and go beyond. It should fall on COP27 to decisively act on the void of finance for loss and damage in a clear litmus test for whether those fueling the climate crisis can truly begin to take responsibility for the breath of damage that has been unleashed by it."
About V20 Group:
Formed in 2015, the V20 Group of Finance Ministers is a dedicated cooperation initiative of economies systematically vulnerable to climate change. V20 Group members are also states of the Climate Vulnerable Forum (CVF). The Group's incoming chair is the Republic of Ghana. The V20 membership stands at 55 economies including Afghanistan, Bangladesh, Barbados, Benin, Bhutan, Burkina Faso, Cambodia, Colombia, Comoros, Costa Rica, Democratic Republic of the Congo, Dominican Republic, Ethiopia, Eswatini, Fiji, The Gambia, Ghana, Grenada, Guatemala, Guinea, Guyana, Haiti, Honduras, Kenya, Kiribati, Nicaragua, Lebanon, Liberia, Madagascar, Malawi, Maldives, Marshall Islands, Mongolia, Morocco, Nepal, Niger, Palau, Palestine, Papua New Guinea, Philippines, Rwanda, Saint Lucia, Samoa, Senegal, South Sudan, Sri Lanka, Sudan, Tanzania, Timor-Leste, Tunisia, Tuvalu, Uganda, Vanuatu, Viet Nam and Yemen.
FOR INQUIRIES CONTACT:
Nabiha Shahab, media@v-20.org
+62 813 1421 3432
www.V-20.org
Notes to the editors:
[1] Looking specifically at the effects of changes in hydrometeorology, all V20 countries face reductions in their GDP per capita, due to a lack of adaptation to current precipitation patterns. As the consequences of climate change progressively affect precipitation patterns, more countries in V20 are exposed to an increased economic burden on the ability to develop. The losses – on average between -10 and 15% of the growth potential – estimated in all V20 countries are compelling and shed a light on the urgent and massive level of investments required to adapt to climate change.
[2] The V20 are working with the Global Environment Facility's Small Grants Programme to develop their own V20 loss and damage funding mechanism, given the GEF's has managed billions of dollars in over 20,000 small grants in more than 130 countries including current projects in 41 Least Developed Countries and 37 Small Island Developing States. By COP27 we plan to demonstrate from this endeavour that loss and damage funding fills a vital gap in the climate finance landscape, that it can be financed effectively and efficiently, and that loss and damage funding is entirely possible at scale.
The results of modelling are compared with climate-related disasters that affected V20 countries. This comparison allows to highlight Tuvalu as a case where international finance has made a difference. For Tuvalu, the effect estimated by the model does not reflect the disaster year's GDP per capita dynamic. While the drought and its consequences were unfolding on the islands, the Government of Tuvalu received a significant increase in ODA (from $US 13.9 million or 27% of GNI in 2010 to $US 37.3 million or 64% of GNI in 2011), this increase in ODA contributed to totally offset the negative consequences of the drought at the macroeconomic level. The example of Tuvalu is an illustration of the benefits associated with a mechanism, at the national, regional, or international level that would support countries in the aftermath of climate-related disasters – in line with the on-going negotiations on loss and damage at the UNFCCC – although such mechanisms can never compensate for lives lost.
Related News
2 December 2023, DUBAI: The Climate Vulnerable Forum and V20 Finance Ministers today held a stocktake of reforms in the internatio...
1 December 2023, DUBAI: Barbados has been selected to host the next presidency of the Climate Vulnerable Forum (CVF), a group of 6...
11 November 2023, DUBAI: The Climate Vulnerable Forum's (CVF) Founder, former Maldives president Mohamed Nasheed, met yesterday wi...