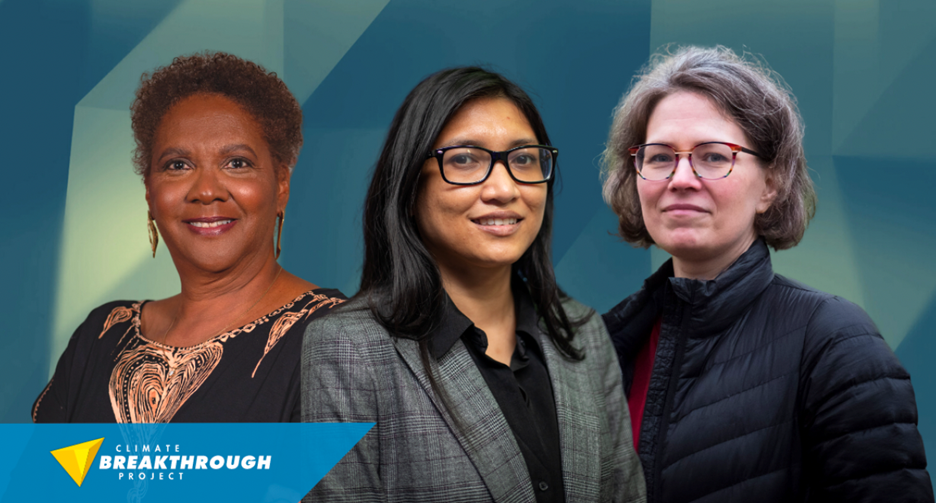 V20's Finance Advisor, Sara Jane Ahmed, named recipient of $3 million award for Climate Prosperity Plan for economies facing most climate risks
SAN FRANCISCO/MANILA, December 7, 2021
 — The 
Climate Breakthrough Project
, a philanthropic organization, has named 
Sara Jane Ahmed, V20's Finance Advisor
, one its three recipients of the
2021 Climate Breakthrough Award
, the largest environmental award of its kind. The awardees, who for the first time are all women, will each receive three million US dollars to design and implement their breakthrough climate change strategies.
The two other recipients are Denise Fairchild of the United States and Kathrin Gutmann of Germany.
The Climate Breakthrough Project said the award is specifically for Sara's formulation of the Climate Prosperity Plan for V20 economies that are most exposed to climate risks:
"Her breakthrough strategy is to catalyze economic transformation through investments in financial and energy planning in the world's most climate-vulnerable countries. She calls this package of policies and financial mechanisms a Climate Prosperity Plan, or CPP. CPPs include plans designed to unlock new investment opportunities in climate-vulnerable countries, in addition to an analysis of how the plans are financed, implemented, and projected to boost growth…. The first Climate Property Plan is being rolled out in Bangladesh, where the government has integrated it in their national strategies. Sara's goal is, by the end of 2030, to create and implement CPPs for the top 50 most climate vulnerable developing countries —representing an estimated 1,600 million tons of emissions, 1.4 billion people, and US$2.5 trillion in GDP."
Sara remarked that the award will accelerate the planned implementation of Climate Prosperity Plans across V20 member states:
"I'm deeply honored to receive the Climate Breakthrough Award. It is an amazing opportunity to elevate the Climate Prosperity Agenda of economies, helping mobilize finance to survive and thrive even on the frontline of the climate emergency. The Breakthrough prize might even represent a lifeline for the ambition we need to keep alive during this very difficult period when countries long vulnerable to climate change need to largely rely on their own ideas, political will, and collective resolve to implement new approaches and bold, integrative strategies.
"The Climate Breakthrough Award will help steer and drive the course of economic development prospects through Climate Prosperity Plans, which establishes climate vulnerable countries in the driver's seat of catalyzing economic transformation. Our aim is simple: launch a decade of progress aimed ultimately at achieving, by 2030 – not 2050, but this decade – climate prosperity, or the reversal of systemic climate vulnerability towards becoming systemically climate resilient, highly efficient, modern, low carbon economies."
Sara is the Founder and Executive Director of the Financial Futures Center while serving as the Finance Advisor to the V20 Group of Finance Ministers from 55 climate vulnerable countries. She also developed the Sustainable Insurance Facility and the Accelerated Finance Mechanism for V20.
Sara's previous roles include advisory positions at the Climate Change Commission in the Philippines, the United Nations Development Programme, the Asian Development Bank, and the World Resources Institute. She holds a master's degree in finance from the Simon Graduate School of Business in the University of Rochester and a bachelor's degree in economics from Knox College. She also sits on the advisory board of the Global Renewables Congress and Climate Smart Ventures.
ABOUT
Formed in 2015, the V20 Group of Finance Ministers is a dedicated cooperation initiative of economies systematically vulnerable to climate change. It is currently chaired by the People's Republic of Bangladesh. The V20 membership stands at 55 economies including Afghanistan, Bangladesh, Barbados, Benin, Bhutan, Burkina Faso, Cambodia, Colombia, Comoros, Costa Rica, Democratic Republic of the Congo, Dominican Republic, Eswatini, Ethiopia, Fiji, the Gambia, Ghana, Grenada, Guatemala, Guinea, Guyana, Haiti, Honduras, Kenya, Kiribati, Lebanon, Liberia, Madagascar, Malawi, Maldives, Marshall Islands, Mongolia, Morocco, Nepal, Nicaragua, Niger, Palau, Palestine, Papua New Guinea, Philippines, Rwanda, Samoa, Saint Lucia, Senegal, South Sudan, Sri Lanka, Sudan, Tanzania, Timor-Leste, Tunisia, Tuvalu, Uganda, Vanuatu, Viet Nam, Yemen.
FOR INQUIRIES CONTACT:
Nabiha Shahab
+62 813 1421 3432
Related News
PRESS RELEASE  Forum of 68 vulnerable countries call for climate prosperity, debt action at UNGA 78 United Nations (UN), NY,...
Terms of Reference: Co-Director of the Global Shield Secretariat, responsible for Global Strategy and Engagement Summary ...
GRAPHIC: V20 senior officials from 35 different countries meet virtually on September 12, ahead of the CVF Leaders Meeting at the ...