V20 Group and the IDF call for joint collaboration and international support to strengthen global physical climate risk management capabilities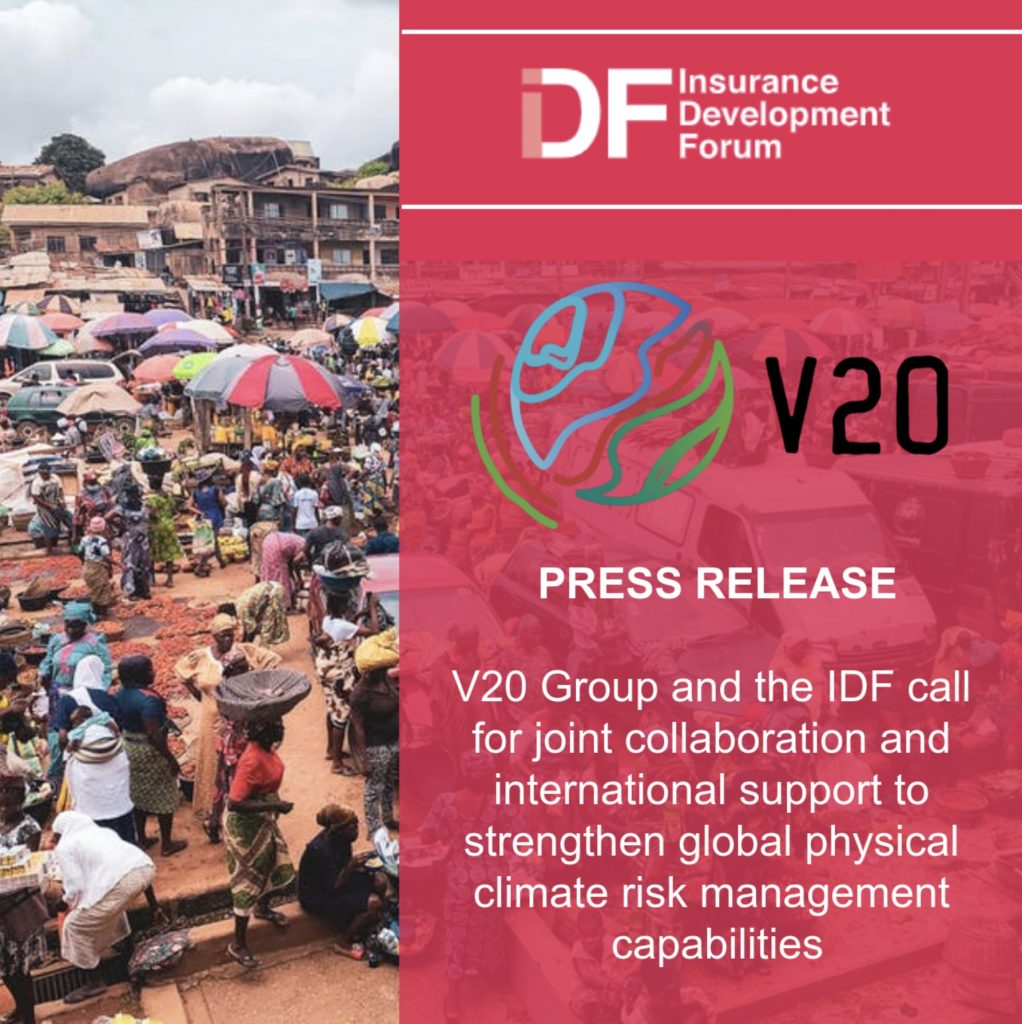 The IDF and the Vulnerable 20 (V20) Group of Ministers of Finance announced their intention to advance on the creation of the Global Risk Modelling Alliance by COP26 in Glasgow and called on the G7 and the G20 to support this effort.
New York, September 17, 2021: The Insurance Development Forum (IDF) and the Vulnerable Twenty (V20) Group of Ministers of Finance shared their joint vision to establish a global public private partnership on risk and resilience analytics, at a roundtable on the margins of the United Nations General Assembly with the theme "Strengthening Global Physical Climate Risk Management Capabilities".
Special Envoy Mr. Abul Kalam Azad, of the CVF and V20 Presidency of the People's Republic of Bangladesh, underscored the necessity to develop risk analytics based on country demand and built on "an inclusive process, commensurate with ground truths". He also highlighted that Bangladesh's comprehensive risk management and adaptation program in the Mujib Climate Prosperity Plan, "attempts to mobilize resources to secure reduced climate impacts".
Acknowledging the V20's earlier call for a global public-private partnership for risk analytics and resilience during the 1st V20 Climate Vulnerable's Finance Summit in July 2021, AXA and IDF Chairman Denis Duverne highlighted the IDF's call for donor country support to make climate risk analytics a public good, by forming a Global Risk Modelling Alliance (GRMA). He stated, "The effects of the climate crisis can only be addressed fairly if all sectors pool their resources and risk management expertise at global and local levels. We are honoured by the prospect of partnering with V20 members in bringing private sector capabilities to this important programme and call on G7 and G20 governments to join us."
Aimed at providing vulnerable country governments with an open-access risk modelling platform and the knowledge to utilize the best of global and local models and data, the GRMA is designed to enable V20 members to strengthen their physical climate risk management capabilities and create the trust and confidence necessary to attract investment in adaptation and risk financing solutions.
The IDF and the V20 announced their intention to advance on the creation of the GRMA by COP26 in Glasgow and called on the G7 and the G20 to support this effort.
Special Envoy Azad also highlighted that, in order to complement the work of the GRMA, "the international community must help climate vulnerable countries to close the existing financial protection gap through climate smart insurance subsidies and capitalization support".
The latest Intergovernmental Panel on Climate Change Assessment Report released in August 2021 now officially confirms that, due to inadequate emission reduction measures, the 1.5-degree limit of the Paris Agreement may be breached this decade. This spells physical, economic and social devastation for the world's most climate vulnerable developing countries, including the 48 members of the V20.
In most V20 economies more than 98% of losses remain uninsured, leaving people and hard won development gains unprotected. At the same time, investments in quantifying, prioritizing and pricing climate risk are mainly concentrated in the Global North. Similarly, financial protection tools, such as disaster risk insurance, are least available and affordable in the Global South. This is, in no small part, due to a lack of access to the risk data and understanding necessary to build national disaster risk markets and support governments in making critical climate investment decisions.
Committing support towards the creation of the operationalization of the GRMA, smart premium and capital support and country-demand-led implementation initiatives could represent significant steps in the run-up to COP26 and beyond.
Notes to Editors
About the V20
Formed in 2015, the V20 Group of Finance Ministers is a dedicated cooperation initiative of economies systematically vulnerable to climate change. It is currently chaired by the People's Republic of Bangladesh. The V20 membership stands at 48 economies including Afghanistan, Bangladesh, Barbados, Bhutan, Burkina Faso, Cambodia, Colombia, Comoros, Costa Rica, Democratic Republic of the Congo, Dominican Republic, Ethiopia, Fiji, The Gambia, Ghana, Grenada, Guatemala, Haiti, Honduras, Kenya, Kiribati, Lebanon, Madagascar, Malawi, Maldives, Marshall Islands, Mongolia, Morocco, Nepal, Niger, Palau, Palestine, Papua New Guinea, Philippines, Rwanda, Saint Lucia, Samoa, Senegal, South Sudan, Sri Lanka, Sudan, Tanzania, Timor-Leste, Tunisia, Tuvalu, Vanuatu, Viet Nam and Yemen.
For more information, please visit: www.v-20.org/
PR Contacts
Nabiha Shahab
media@v-20.org
+62 813 1421 3432
About the IDF
The Insurance Development Forum (IDF) is a public-private partnership led by the insurance industry and supported by international organisations, including the United Nations and the World Bank.
It was established to facilitate and support the growth and development of insurance-related resources and capabilities to help achieve the objectives of the Sustainable Development Goals (SDGs) and related United Nations (UN) Agreements, collectively herein known as the U.N. Global 2030 Agenda.
The IDF aims to optimise and extend the use of insurance and its related risk management capabilities to build greater resilience and protection for people, communities, businesses, and public institutions that are vulnerable to disasters and their associated economic shocks.
For more information please visit: www.insdevforum.org
PR Contacts
Helen Wright
Lysander PR
helen@lysanderpr.com
+1 7842 729 579
Roddy Langley
Lysander PR
roddy@lysanderpr.com
+1 7547 901 618
Related News
2 December 2023, DUBAI: The Climate Vulnerable Forum and V20 Finance Ministers today held a stocktake of reforms in the internatio...
1 December 2023, DUBAI: Barbados has been selected to host the next presidency of the Climate Vulnerable Forum (CVF), a group of 6...
11 November 2023, DUBAI: The Climate Vulnerable Forum's (CVF) Founder, former Maldives president Mohamed Nasheed, met yesterday wi...