Statement delivered by advisor on behalf of H.E. Ken Ofori-Atta, Hon Minister for Finance and Economic Planning of the Republic of Ghana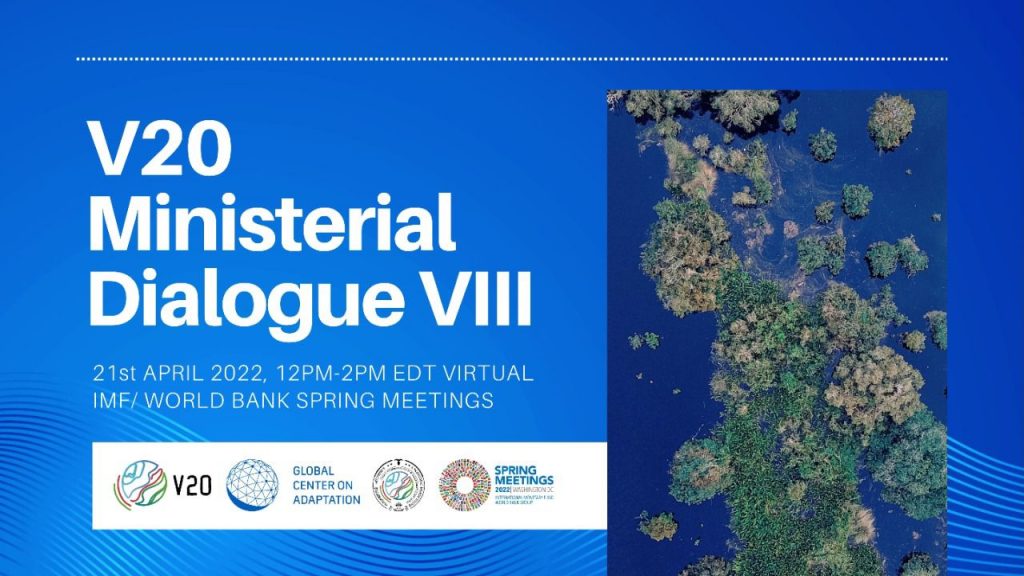 V20 MINISTERIAL DIALOGUE VIII- 21 April, 2022
 Statements
10:00 pm Dhaka time/12:00 pm Washington DC time
Statement delivered by advisor on behalf of H.E. Ken Ofori-Atta, Hon Minister for Finance and Economic Planning of the Republic of Ghana
H.E. Ken Ofori-Atta read out by Prof. George GYAN BAFFOUR, Senior Policy Advisor to the Hon. Finance Minister
Hon Minister for Finance and Economic Planning of the Republic of Ghana
Excellencies, the first two decades of the 21st century will go in history as a period of intense global turbulence with unprecedented destructive effects on developing economies as a result of one, extreme manifestation of negative consequences of climate change on our planet; two, the coronavirus pandemic, and its devastating socio-economic impacts on the world systems, and its debilitating effect on lives and livelihoods across the globe; and third, the war in Ukraine, which has further reinforced the vulnerabilities in the global supply chains, and global food security systems.
We indeed live in gloomy times. And yet, we cannot afford to be overwhelmed by the challenges that we are facing.  We cannot throw our hands in the air and give up.  That will turn the gloom to doom.
If you follow the science, if you got a political world grounded in ethics and values, such as fairness, justice, equal opportunity, and compassion, we will be capable of realizing the 2030 global goals.  In Sub-Saharan Africa, we are already experiencing intensified temperature extremes, precipitation anomalies, and natural disasters that are known to leave millions in peril, injured, homeless or food insecure, and cause serious and costly economic damage.  A most recent IPCC report indicates that these are the visions that will simply worsen.  Indeed, the worst is yet to come if global warming is not kept under control through ambitious mitigation, and adaptation programs.
While the cause of climate action may appear daunting, the alternative that is doing nothing, is grossly prohibitive to us all.  We currently require investment in climate adaptation for Sub-Saharan Africa to the tune of between thirty and $50 billion each year, over the next decade, or roughly two to three percent of our GDP. Africa is projected to need $3 trillion in mitigation and adaptation by 2030 to implement its nationally determined contributions. And here at home, in Ghana, we will need between $9.3 billion to $15.5 billion investment to implement our forty-seven nationally determined contribution programs from 2021 to 2030.
The financial pledges by richer nations, nations whose riches were made from the carcasses of the airs (phonetic) defenses and are responsible for the desperate times we all face today, pale to insignificance if you compare it to the mountain economic costs of the climate crisis in the developing world.  This makes it difficult to believe it when the developing world is concerned for the aid, is concerned for global warming, and the devastating effects of climate change.
The one hundred billion U.S. dollars pledged over twelve years ago, which is universally agreed as inadequate, if we are to realize our global goals on climate change is yet to be delivered.  While we work towards establishing the exact cost of how we limit, the air's temperature increased 1.5 degrees Celsius above preindustrial levels. To avoid getting to the tipping point, it is clear that the global north and south need to be aligned in the process of determining the new collective quantified goal on climate finance, what it should be in the spirit of Article IV.
While we emphasize the need to make financial flows consistent with the weight of responsibility, we can see a mutual beneficial relationship between the efficient use of financing mechanisms, such as debt to climate swaps, performance based financing instruments, alongside increased access to adaptation funds, which will enable the developing world to consolidate its socioeconomic gains, whilst accelerating is low carbon transition collaboratively with our bilateral and multilateral development partners.
Ghana looks forward to taking over the V20 presidency. I will endeavor to build on the successes of previous V20 presidencies of the Philippines, Ethiopia, Marshall Islands, and Bangladesh.  We aim to continue to work on key issues important with V20, including working on the global financial architecture concerning debt and access to liquidity, especially with the V20, G7, the World Bank, and the IMF.  It's 2022. We have less than 18 years to achieve these ambitious yet critical goals. Let's do it.  And let's do it right together in building back better.
[END]
Related News
Chair Closing delivered by H.E. Ken Ofori-Atta, Hon. Finance Minister of Republic of Ghana V20 MINISTERIAL DIALOGUE X 16 April...
Statement delivered by Mr. Manish Bapna, President and CEO, Natural Resources Defense Council (NRDC) V20 MINISTERIAL DIALOGUE X...
Statement delivered by Ms. Marilou Uy, Task Force on Climate, Development and the IMF V20 MINISTERIAL DIALOGUE X 16 April 2023...