Statement delivered by H.E. Mr. Michel Patrick, Hon. Minister of Economy and Finance, Republic of Haiti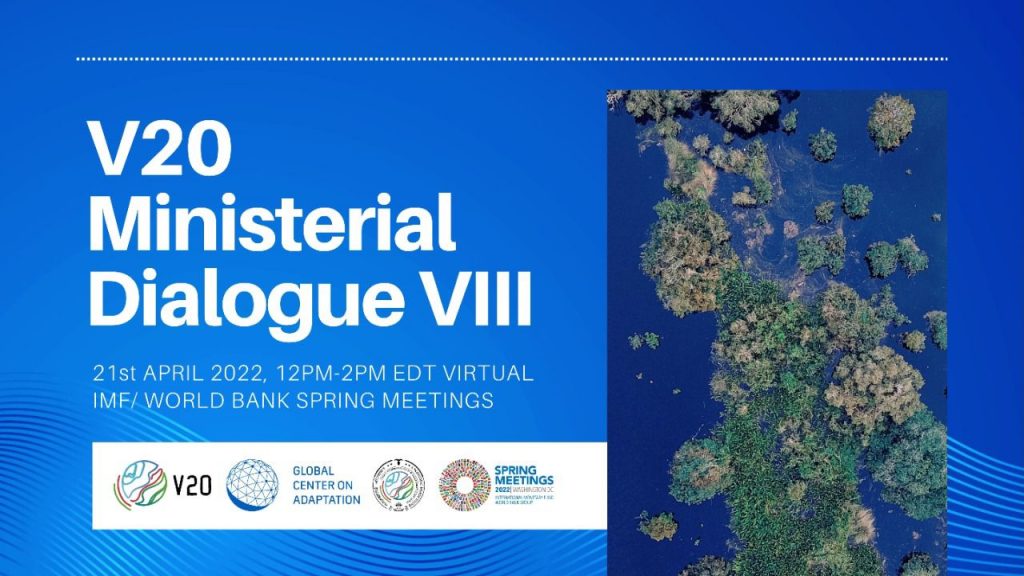 V20 MINISTERIAL DIALOGUE VIII- 21 April, 2022
 Statements
10:00 pm Dhaka time/12:00 pm Washington DC time
Statement delivered by H.E. Mr. Michel Patrick, Hon. Minister of Economy and Finance, Republic of Haiti
H.E. Mr. Michel Patrick Boisvert
Hon. Minister of Economy and Finance, Republic of Haiti
Merci, Chair.  Dear Excellencies, Ladies, Gentlemen — dear colleagues, I welcome this opportunity to work on this particular challenge. There are so many disasters that keep occurring in our countries and we need to take adaptation and mitigation measures. Our countries are highly vulnerable to climate change, finding it difficult to overcome the COVID crisis and are now faced with new challenges from the war in Ukraine.  So, the implementation of climate measures is based on an increase in financing. We are very worried when we see that resources mobilize at an international level are not sufficient to meet the objectives of the COP26, this is why we want to support our call to the international community to help us finance the implementation of adaptation and mitigation measures.
We encourage regional initiatives in the field of climate in order to strengthen national initiatives in terms of management and financing climate risks.  In our region, in the Caribbean, the [inaudible], and other organizations play a major role in the implementation of specific measures to respond to this situation.  We are preparing for disasters, and we have a specific plan in this respect to Haiti to improve our resilience over the next 10 years. But this plan can only be put in place if we have the appropriate financing.  I understand that there are financial constraints for most member countries of the V20, especially small island states in the Caribbean.
We need to be able to resort to financial resources and this is why I welcome the V20 initiatives to promote partnerships between international financial institutions and private the sector in order to further mobilize financing for climate action in the most vulnerable countries.  In Haiti, with the help from the World Bank, the Inter-American Development Bank, the government is working really hard on preparing a strategy in this respect in order to reduce financial uncertainty caused by natural disasters and to help us prepare for such disasters.
Earlier this month we had prepared a specific international conference on the funding of disaster risks, and we received a number of commitments from donors and development partners in order to implement and to help us implement the strategy. We would like to see this at an international level as well in order to help our countries increase their capacity to respond to climate change and we welcome here the setting up of the sustainability and resilience fund.  Which — and we hope with access to this is will be operational very soon so that we can benefit from such funding. We also welcome the fact that for IDA20 climate change has been once again selected as the specific theme and we hope that the future in resilient and inclusive growth is one of the specific objectives. We hope that the RW regional window will be strongly used to respond to climate change.  Thank you for your attention.
[END]
Related News
4 December 2023, 12 pm, GCA Action Lab, Al Shaheen, Blue Zone Thank you to Vera Songwe, Professor Nick Stern, and to Amar Bhatt...
OFFICIAL REACTION AN OFFICIAL V20 REACTION TO THE AFRICA CLIMATE SUMMIT Nairobi, 7 September 2023 -- Coming from the 2023 Afri...
COLLECTIVE STATEMENT Emergency Coalition for Debt Sustainability and Climate Prosperity Recalling the Accra-Marrakech Agen...