Statement delivered by H.E. Mr. Neal Rijkenberg, Hon Minister of Finance of the Kingdom of Eswatini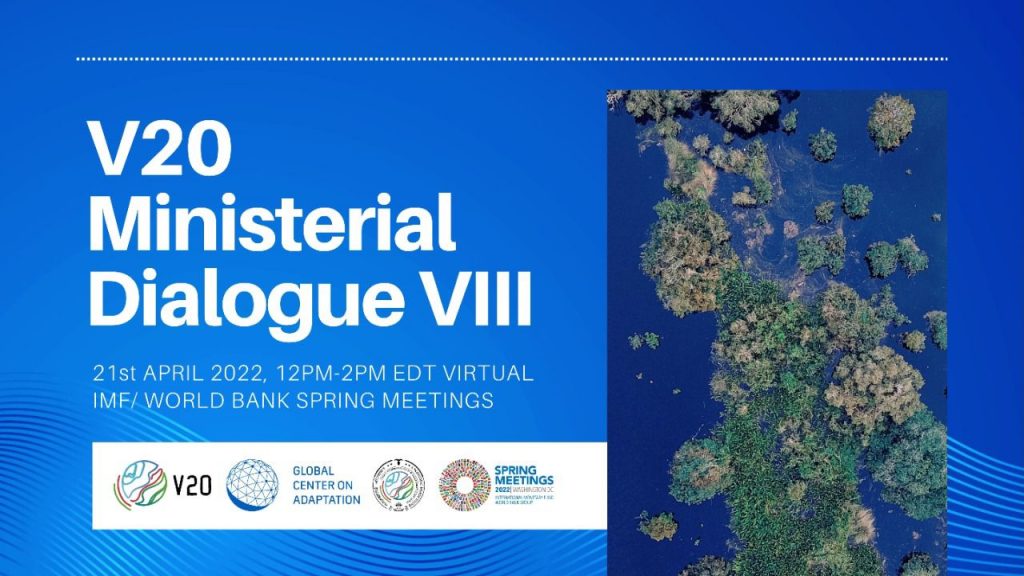 V20 MINISTERIAL DIALOGUE VIII- 21 April, 2022
 Statements
10:00 pm Dhaka time/12:00 pm Washington DC time
Statement delivered by H.E. Mr. Neal Rijkenberg, Hon Minister of Finance of the Kingdom of Eswatini
H.E. Mr. Neal Rijkenberg
Hon Minister of Finance of the Kingdom of Eswatini
Your Excellencies, the V20 Chairperson, Ministers, the V20 Secretariat, Representatives of Institutional Partners, all Delegates at large.  Climate change has affected the Kingdom of Eswatini, exposing its population to catastrophic difficulties. And some of the climate change impacts been experienced include significant variations in precipitation patterns, higher temperatures, and increasing in frequency and intensity of severe weather events, such as droughts, floods, and cyclones.
In 2021, Eswatini presented in Glasgow, its enhanced National Determined Contributions, which are referred to as NDC. Acknowledging that despite our contribution to climate change, emissions being minuscule  the country is committed to climate action, and progressed beyond by adopting an economy-wide greenhouse gas emission reduction of 5% by 2030.  Our target though, is 14% of GHG emissions reduction with external financing, the NDC process is supported by the NDC partnership, UNDP, and other development partners and takes a whole government and a whole society approach, and will cost 950 million USD to 1.5 billion USD to implement. This climate financing is important for our country to achieve its ambitious NDC; grants, public-private partnership arrangements capacity-building and government-sponsored investment funds, other special-purpose instruments, including green bonds, are considered interventions through which the private sector can leverage public funds to develop the needed skills, access technical support, develop standardised and scalable projects, access large-scale investments as well as de-risk private investments. The country intends to communicate that climate resilience, sustainable and equitable development are part of our priorities.  With an enhanced and more ambitious updated NDC, Eswatini is preparing to implement both the adaptation and mitigation sides. The enhanced NDC comes at the opportune moment as the country is developing in the new National development plan,  another National adaptation plan, and revising its national development strategy. Subsequently, the following climate information and risk assessment related sets of actions are acknowledged as key to overcoming the above-listed limitations.
First of all, the need to improve climate information and risk assessment at the country and at all levels. And secondly, the need for training key climate change adaptation key stakeholders and research organisations on the use of different adaptation tools and methods applicable to different sectors including economic models, biophysical models, and cost-benefit analysis. Significant investment and support are required to enable the poorest and the most vulnerable countries to adapt to the adverse impact of climate change and reduce greenhouse gas emissions. Increasing capacity in developing countries are creating conditions that enable both public and private investment flows to address environmental problems is key to finance the transition to a climate-resilient low emission society. The Kingdom of Eswatini is already experiencing the adverse impact of climate change and there is an urgent need to adapt and build resilience. Thank you all very much.
[END]
Related News
4 December 2023, 12 pm, GCA Action Lab, Al Shaheen, Blue Zone Thank you to Vera Songwe, Professor Nick Stern, and to Amar Bhatt...
OFFICIAL REACTION AN OFFICIAL V20 REACTION TO THE AFRICA CLIMATE SUMMIT Nairobi, 7 September 2023 -- Coming from the 2023 Afri...
COLLECTIVE STATEMENT Emergency Coalition for Debt Sustainability and Climate Prosperity Recalling the Accra-Marrakech Agen...