Statement delivered by Mr. Ani Dasgupta, President and Chief Executive Officer, The World Resources Institute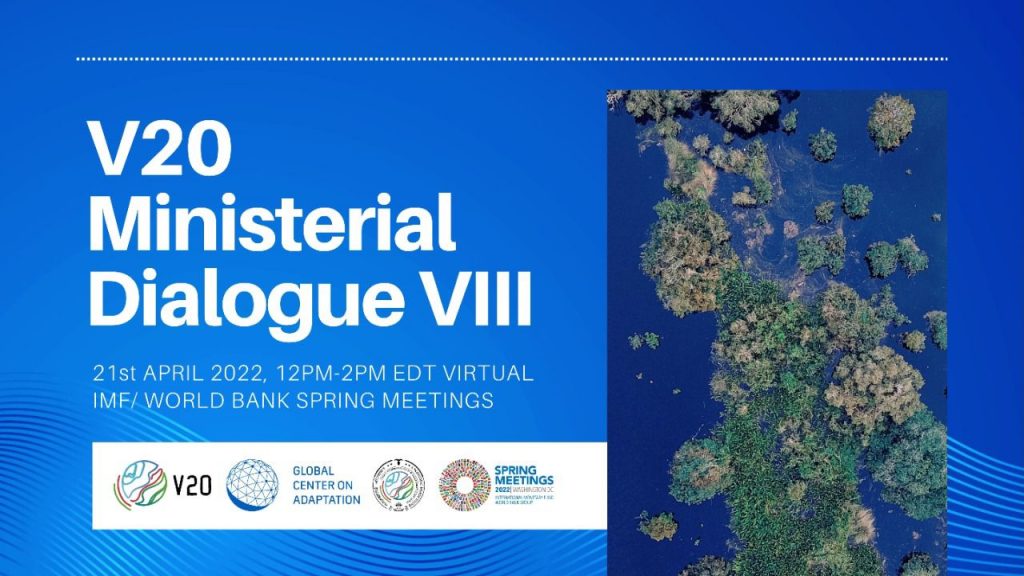 V20 MINISTERIAL DIALOGUE VIII- 21 April, 2022
 Statements
10:00 pm Dhaka time/12:00 pm Washington DC time
Statement delivered by Mr. Ani Dasgupta, President and Chief Executive Officer, The World Resources Institute
Mr. Ani Dasgupta
President and Chief Executive Officer, the World Resources Institute
Hi, I am Ani Dasgupta, President and CEO of The World Resources Institute – a global resource organization that works on the environment and development. We are happy to support the preparation of V20's Climate Finance Viewpoint and the Group's work on disaster risk financing.
V20 countries are some of the most vocal and effective advocates for integrating development and climate goals. The V20 are showing time and again that vulnerable countries are not short on vision and ambition. But we are in extraordinary trying times. The recent IPCC report highlights the extreme damages climate changes  are already imposing on vulnerable countries. These reports are clear on the need for significantly increased concessional financing for vulnerable countries for successfully tackling the climate crisis. Developed countries and multilateral institutions have unfortunately fallen short on the scale and quality of climate finance provided. The 100 billion dollar goal which was supposed to be met by 2020 remains unfulfilled. What's more, small island developing states and least developed countries still don't receive the significant share of climate funding – just 2% and 15%. Funding for adaptation is also inadequate, just 20 billion in  2019.  But the latest IPCC report says developing countries need nearly 300 billion per year by 2050. This funding must be urgently scaled up. At the same time, we need to make sure it reaches each local communities where climate impacts are felt most accurately. This community should also be involved to locally led adaptation. Most climate finance still goes through international intermediaries leaving the promise of direct access to developing countries unfulfilled.
Drawing on our research and experience in readiness training, the WRI supports the V20's efforts to address the barriers in accessing climate finance. But the climate crisis requires us to look more broadly at the inequities in a global economic system. WRI research found that many developing countries have had to cancel or delay climate spending due to the twin pressures of Covid and debt. We, therefore, support the V20's call to rethink that sustainability frameworks to take climate change into consideration, and to reshape the international financial architecture, to support climate vulnerable economies and communities. Rising V20 public expenditure on loss and damage without international support for adaptation is a serious concern.
[The] WRI stands ready to support the V20 on loss and damage. We look forward to V20's continuing leadership in the international forum. On behalf of WRI, we reaffirm our commitment for continued support for the Climate Vulnerable Forum and the V20's work. Thank you.
[END]
Related News
STATEMENT BY INCOMING V20 PRESIDENCY IN OUTREACH WORKSHOP BY HON. DEPUTY MINISTER OF FINANCE JOHN AMPONTUAH KUMAH, MP THURS...
April 21, 2022 Read the original article on United Nation-Secretary-General Watch the video: https://s3.amazonaws.com...
Minister of Finance, Bangladesh and V20 Chair V20 Ministerial Dialogue VIII - 21 April 2022 Chair Opening and Closing Statements...