Statement delivered by Mr. Gurbuz Gonul, Director, Country Engagement and Partnerships, International Renewable Energy Agency (IRENA)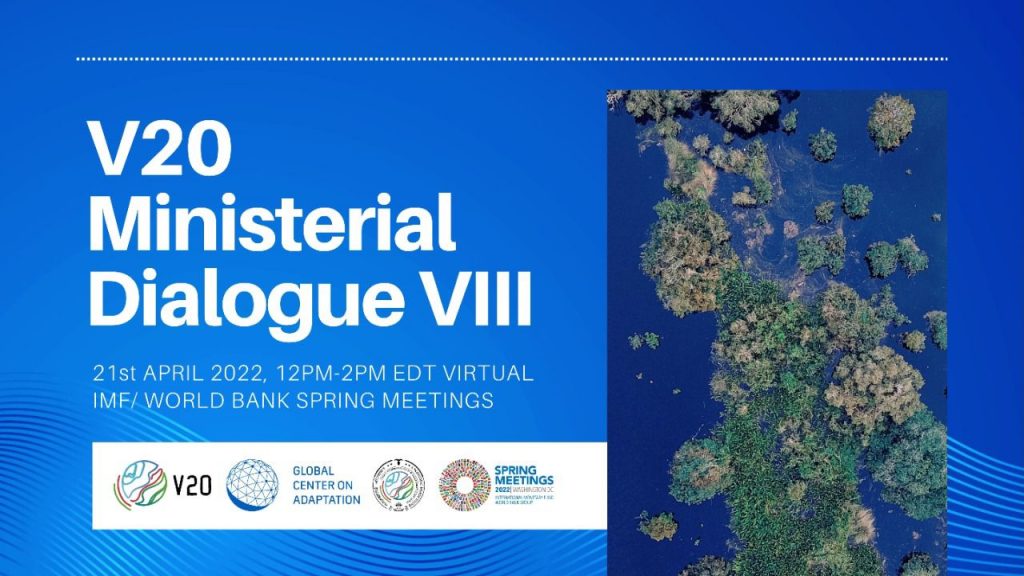 V20 MINISTERIAL DIALOGUE VIII- 21 April, 2022
 Statements
10:00 pm Dhaka time/12:00 pm Washington DC time
Statement delivered by Mr. Gurbuz Gonul, Director, Country Engagement and Partnerships, International Renewable Energy Agency (IRENA)
Mr. Gurbuz Gonul
Director, Country Engagement and Partnerships, International Renewable Energy Agency (IRENA)
Excellencies, Ladies and Gentlemen, it is my pleasure to address you on behalf of IRENA at this V20 Ministerial Dialogue. Together, the voices of climate vulnerable economies tackle climate change. At the outset, I would like to thank the V20 Chair, His Excellency Mustafa Kamal, Honorable Finance Minister of Bangladesh for the kind invitation extended to IRENA. Let me also take this opportunity to congratulate the 50th anniversary of independence of Bangladesh, which coincided with the recent UN decision for graduating the country from the LDC state.
Ladies and gentlemen, the world faces continued challenges related to the impacts of climate change. To keep global temperature rise below 1.5 degree celsius as per the Paris Climate Agreement and avoid extreme climate impacts on most vulnerable economies and people, we need to act today as the window of opportunity is closing fast. Large part of the solutions lie with the transitioning of energy systems and economies to sustainable, reliable, and resilient ones driven by renewable energy and energy efficiency. With the drastic cost decline in the last decade, today, renewable technologies offer the cheapest power option in most regions, more competitive than traditional fuel alternatives. Low-cost renewables offer to many climate-vulnerable countries a strong motivation to realize their renewable energy ambitions. Here, I would like to invite you to have a glimpse at  IRENA's recently published flagship report, the World Energy Transitions Outlook 2022, which provides a pathway for global energy transition aligned with the climate goals while quantifying significant socio-economic benefits, the transition will bring about in terms of economic growth, job creation, and local value creation. IRENA has been closely working with many V20 members providing tools, platforms, and knowledge that have them realize renewable energy ambitions. The last two years, IRENA's technical support for NDC enhancement and implementation spread over 25 V20 members. We also facilitate realization of energy transition projects working closely with key project and finance stakeholders to improve the bankability of project proposals and facilitate their access to finance. The recently launched energy transition accelerated financing platform, offers a financing window, thanks to 400 million US dollars pledged by Abu Dhabi Fund for Development with additional financiers joining soon.
Excellencies, I am confident that this ministerial dialogue will facilitate V20 countries to take decisive actions towards financing energy transition for an enhanced climate action. In this regard, we look forward to closely collaborating with V20 and CVF. Thank you very much.
[END]
Related News
4 December 2023, 12 pm, GCA Action Lab, Al Shaheen, Blue Zone Thank you to Vera Songwe, Professor Nick Stern, and to Amar Bhatt...
OFFICIAL REACTION AN OFFICIAL V20 REACTION TO THE AFRICA CLIMATE SUMMIT Nairobi, 7 September 2023 -- Coming from the 2023 Afri...
COLLECTIVE STATEMENT Emergency Coalition for Debt Sustainability and Climate Prosperity Recalling the Accra-Marrakech Agen...