Statement delivered by Mr. Thierry Wartin On behalf of H.E. Dr. Uzziel Ndagijimana, Hon Minister of Finance and Economic planning of Rwanda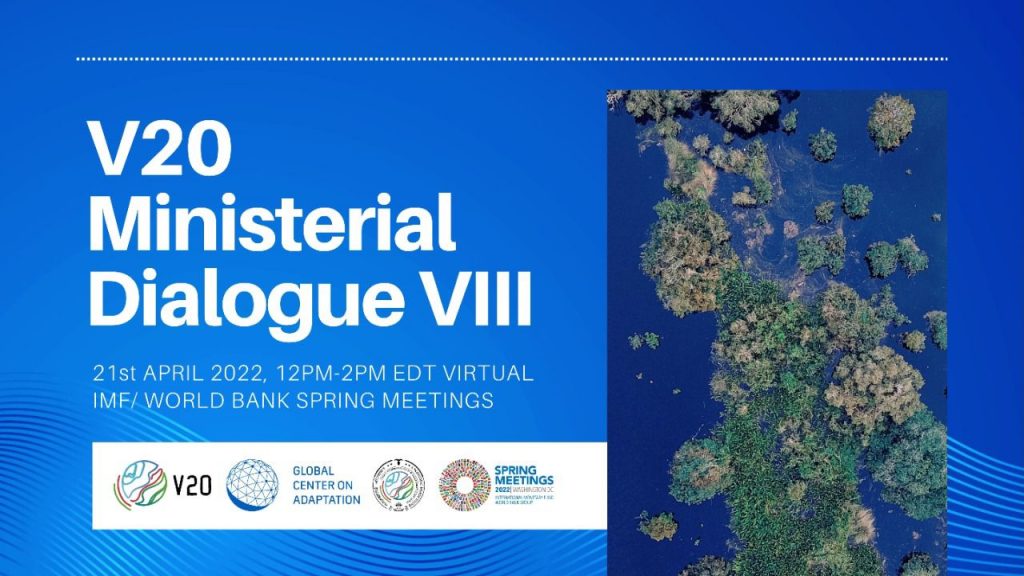 V20 MINISTERIAL DIALOGUE VIII- 21 April, 2022
 Statements
10:00 pm Dhaka time/12:00 pm Washington DC time
Statement delivered by Mr. Thierry Wartin On behalf of H.E.  Dr. Uzziel Ndagijimana, Hon Minister of Finance and Economic planning of Rwanda
Mr. Thierry Wartin
On behalf of the Hon Minister of Finance and Economic planning of Rwanda
Thank you, Excellency Azad.  Thank you, everybody.
Excellencies, I would like to thank the V20 for organizing this ministerial meeting.  During COP26 held in Glasgow, developed nations committed to double international fundings for adaptation by 2025.  The $100 billion USD commitment per year was not fulfilled within 2020. But at COP26 developed country renewed their commitment of $100 billion USD by 2023.  The V20 Insuesilience Global Partnership, which Rwanda co-chairs with the V20 and G20, has acknowledged the need and began funding premium subsidies, so that we can work to close the financial protection gap caused by the climate and disaster risk.  We shall continue our work to ensure greater support investments mobilized to protect the growth of our economies.
During the last V20 meeting, the member viewpoints were really interesting, and defending the fight against climate change.  About the resource mobilization and access, we stressed that there was an urgent need for global shield proposed by the G7 presidency.  The global shield was a financial protection against the climate shield risk for government.  The financial protection tools must overcome affordability investment barriers for economies like us — developing country — to truly help reduce and manage the climate risks impact.  Access to lower cost of capital can improve that sustainability and enable sustainable and suitable resilient investments to succeed.  We know that for the V20, and Rwanda, for example, the development of the accelerated financing mechanism was crucial in order to provide off balance shield guarantees to deal with this issue.
Some of my colleagues talked about the IPCC report.  I believe that most of us really read it and took it seriously. The outcomes clearly shows that adaptation must remain the climate response and core of vulnerable countries.  It also stated that it's now or never to limit the global warming to the 1.5-degree limit of the Paris Agreement. Secondly, the coordination collaboration member viewpoint of the V20 advise to focus on early finance and quickly deployed response.  We have much to gain from complementary benefits and preparedness for climates, and against disaster risk financing with our insurance tools.
Finally, about for presentation — it was one of the points of the V20 membership institutionalizing collaboration between the G7 global shield and the V20 is important not only to secure, robust country ownership and global financial responses, but also in terms of establishing measures more responsive to distinct national circumstances.  Thank you.
[END]
Related News
4 December 2023, 12 pm, GCA Action Lab, Al Shaheen, Blue Zone Thank you to Vera Songwe, Professor Nick Stern, and to Amar Bhatt...
OFFICIAL REACTION AN OFFICIAL V20 REACTION TO THE AFRICA CLIMATE SUMMIT Nairobi, 7 September 2023 -- Coming from the 2023 Afri...
COLLECTIVE STATEMENT Emergency Coalition for Debt Sustainability and Climate Prosperity Recalling the Accra-Marrakech Agen...