Statement delivered by Mr. Yannick Glemarec, Executive Director, Green Climate Fund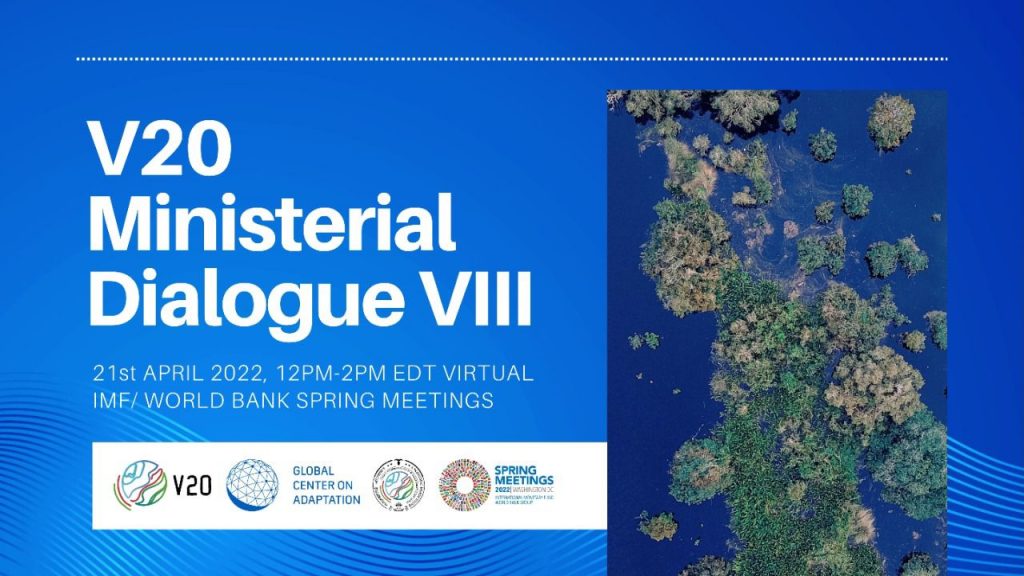 V20 MINISTERIAL DIALOGUE VIII- 21 April, 2022
 Statements
10:00 pm Dhaka time/12:00 pm Washington DC time
Statement delivered by Mr. Yannick Glemarec, Executive Director, Green Climate Fund
Mr. Yannick Glemarec
Executive Director, Green Climate Fund
Your Excellencies, distinguished guests, thanks to the efforts of many of you who are attending this conference today, COP26 in Glasgow marked a watershed in recognition of the need to close the adaptation gap. The Glasgow climate pact included a commitment to double adaptation funding by 2025 compared to 2019 levels.  In turn, these additional resources will need to catalyze further investment from the private sectors in adaptation.  The United Nations Environment Program (UNEP) estimates that the adaptation costs in developing countries are 5 to 10 times greater than current public adaptation finance flows. Working together, the public and private sectors have a critical role to play in closing this gap. This is at the heart of what GCF does as the world's largest climate fund. There is a strong economic case for investing in adaptation. Analysis by the Global Commission and Adaptation has shown that investigating 1.8 trillion dollars, globally, in 5 priority areas between 2020 to 2030 to produce 7.1 trillion dollars in benefit. GCF has 37.3 billion dollars of assets under management, including 10.2 billion donors of GCF resources covering 127 developing countries. We already allocated 50% of our resources to adaptation, with a minimum of 50% of these resources going to the most vulnerable states, LDCs, SIDs and African states.
GCF has adopted a four-prong approach to accelerate both public and private investment in adaptation.
First, we create an enabling environment for adaptation action by promoting integrated strategies, planning and policymaking for systematic resilience assessment, with support from our grant-based readiness programs.
Second, we accelerate climate adaptation innovation through investment in new and innovative technologies, business models, financial instruments and services.
Third, we de-risk high impact adaptation projects that otherwise would not have been feasible in order to establish commercial track records for new adaptation solutions.
And, finally, fourth, we align finance with sustainable development by empowering domestic financial institutions in developing countries. An example of our catalyzing role in adaptation finance is the Global Fund for Coral Reef, where GCF 125 million dollars first lost equity in investment will encourage further public and private investment in the blue economy across 17 countries, including 5 V20 countries. GCF will continue to back such initiatives, funding solutions, particularly to support increased adaptation investment in climate vulnerable countries such as the V20, without increasing the sovereign debt. Thank you very much for the attention.
[END]
Related News
OFFICIAL REACTION AN OFFICIAL V20 REACTION TO THE AFRICA CLIMATE SUMMIT Nairobi, 7 September 2023 -- Coming from the 2023 Afri...
COLLECTIVE STATEMENT Emergency Coalition for Debt Sustainability and Climate Prosperity Recalling the Accra-Marrakech Agen...
Statement for the V20 Expectations for a Fit-for-Climate Financial System by H.E Mia Mottley, Hon. Prime Minister of Barbados &...