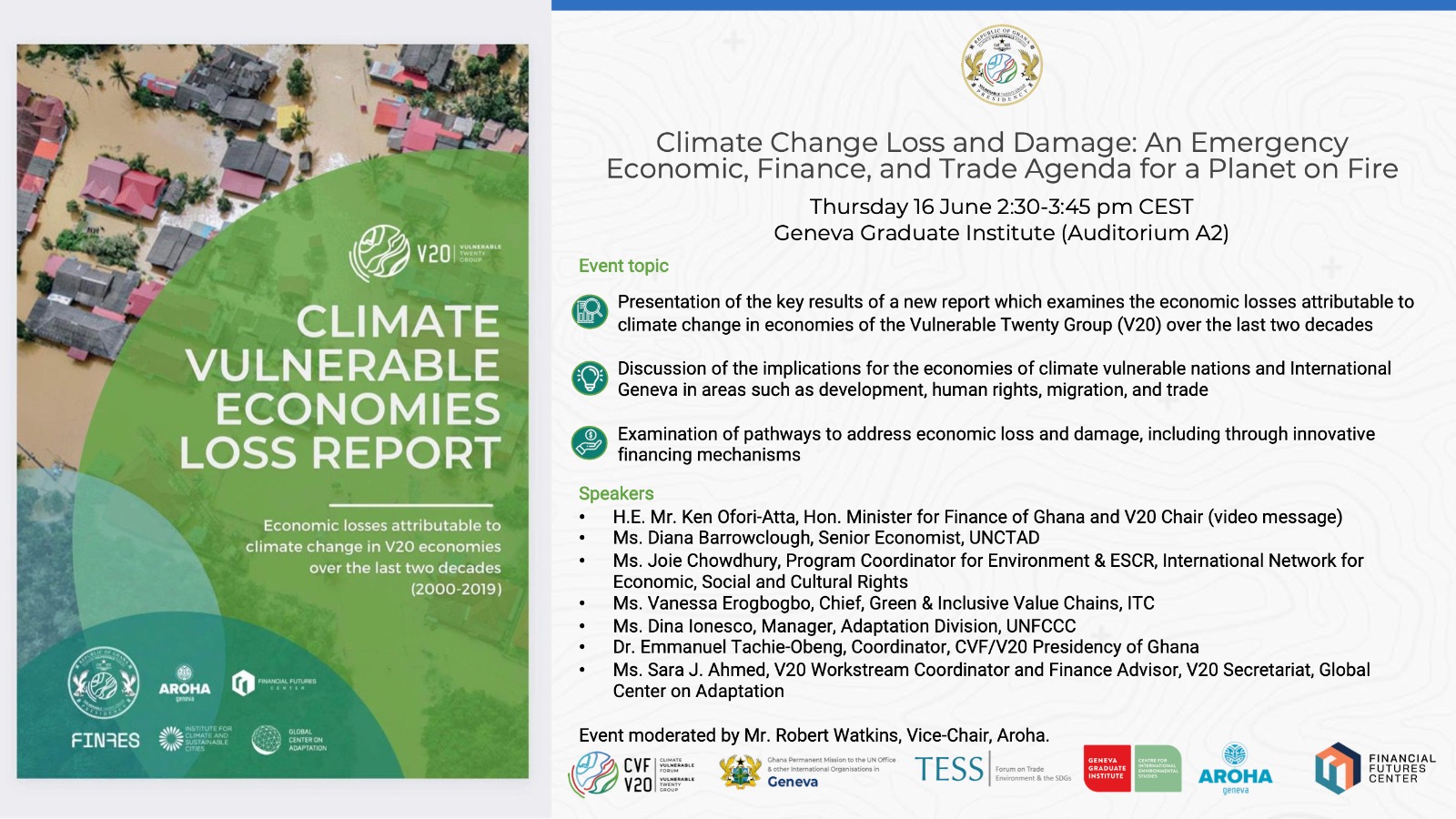 Climate Change Loss and Damage: An Emergency Economic, Finance and Trade Agenda for a Planet on Fire
The Secretariat of the CVF and the V20, in collaboration with the Forum on Trade, Environment and the SDGs (TESS), the Center for International Environmental Studies (CIES), Aroha and the Financial Futures Center, is pleased to invite you to attend the hybrid launch of the recently published Climate Vulnerable Economies Loss Report at the Geneva Graduate Institute in Maison de la Paix, Petal 2, Chemin Eugène-Rigot 2E (auditorium A2) from 2:30pm – 3:45pm CEST on 16 June.
This event will present the key results of a new report which examines the economic losses attributable to climate change in economies of the Vulnerable Twenty Group (V20) over the last two decades. It will also discuss its implications for the economies of climate vulnerable nations and International Geneva in areas such as development, human rights, migration, and trade. Beyond presenting the results of the report, the event will seek to unpack what those results imply for climate vulnerable economies across the world and propose pathways to address economic loss and damage, including through innovative financing mechanisms.
Welcome
Dr. Carolyn Deere Birkbeck, Director, Forum on Trade, Environment and the SDGs
Keynote Statement
H.E. Mr. Ken Ofori-Atta, Hon. Minister of Finance and Economic Planning of Ghana and Chair of the V20 (pre-recorded statement)
Report presentation
Ms. Sara Ahmed, V20 Workstream Coordinator and Finance Advisor, V20 Secretariat, Global Center on Adaptation
Moderator: Mr. Robert Watkins, Vice-Chair, Aroha
Dr. Emmanuel Tachie-Obeng, CVF/V20 Ghana Presidency Coordinator
Ms. Diana Barrowclough, Senior Economist, UNCTAD
Ms. Dina Ionesco, Manager, Adaptation Division, UNFCC
Ms. Joie Chowdhury, Program Coordinator for Environment & ESCR, International Network for Economic, Social and Cultural Rights
Ms. Vanessa Erogbogbo, Chief, Green and Inclusive Value Chains, International Trade Centre
Questions to be addressed at the event will include:
What are the key takeaways from the Climate Vulnerable Economies Loss Report?
What do these findings imply for climate vulnerable economies moving forward in a climate-insecure world?
What are the financing mechanisms that could be put in place to alleviate the burden of loss and damage on vulnerable communities and economies across the globe, effectively averting, minimizing and addressing loss and damage?
How can Geneva institutions respond to these challenges in the domains of trade, human rights, migration, and development?
This event is part of the TESS dialogue series on Climate, Trade and Sustainable Development: Multilateral Perspectives
Kindly register to participate in the event either online or in-person. We hope that you can join us.