Job Post: Assistant to Technical Advisor to V20 Chair, Minister for Finance and Economic Planning, Ghana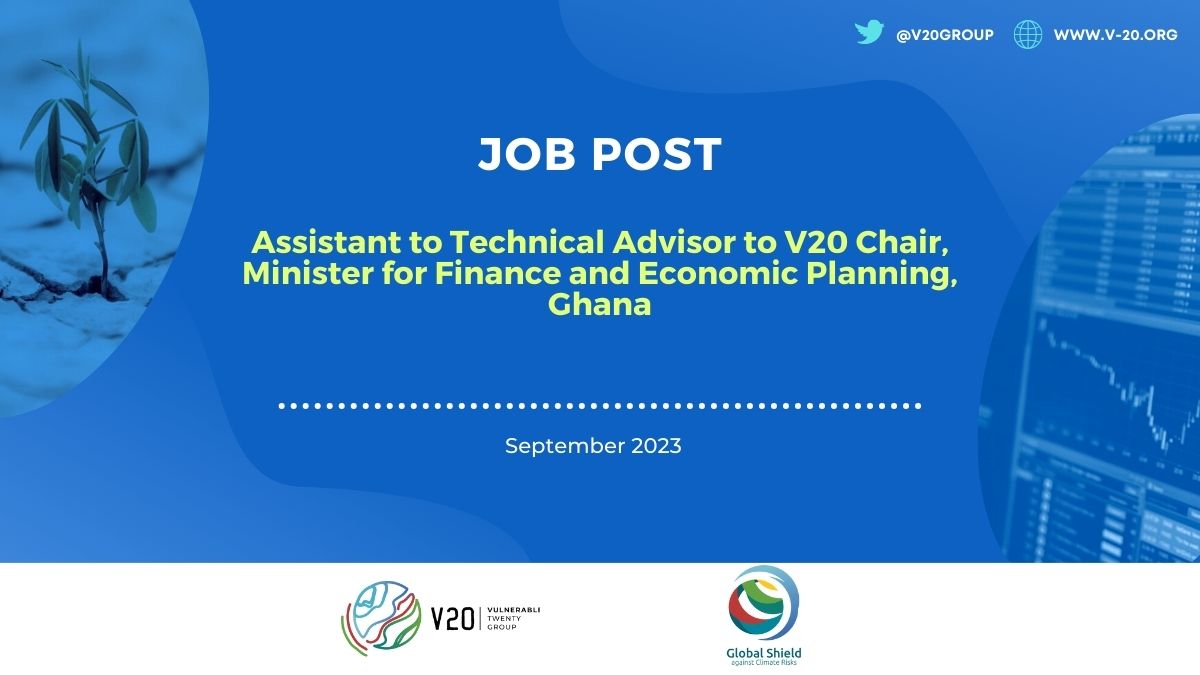 TERMS OF REFERENCE
ASSISTANT TO TECHNICAL ADVISOR TO V20 CHAIR, MINISTER FOR FINANCE AND ECONOMIC PLANNING, GHANA
September 2023
| | |
| --- | --- |
| Role: | Program Assistant |
| Function: | Program Assistant |
| Start Date: | 1 November 2023 |
| Duration: | 12 months |
| Compensation/Benefits: | US dollars (USD) 1000 monthly all-inclusive fee |
| Occupation Rate: | 100% |
| Contract Type: | Year-long basis with monthly fee |
| Working Location: | To be determined |
Organizational Context
The Vulnerable Twenty Group (V20) of Ministers of Finance represents 68 developing economies that are systemically vulnerable to climate change. The V20 has been active since 2015 in addressing the economic and financial aspects of the climate crisis. The Minister of Finance for Economic Planning currently holds the Presidency to the V20.
Position Purpose 
The purpose of the consultancy is to assist Technical Advisor to the Minister for Finance  and V20 focal point with high quality assessment and operational and partner relations support for the V20's work program.
Reporting Relationships
The program assistant  reports to the Technical Advisor to the V20 Chair, Minister for Finance, Ghana
Duties and Responsibilities
The Program assistant will support the technical advisor to the V20 Chair, Minister for Finance  including in the following areas:
Manage the schedule of Technical Advisor to the Minister of Finance and Economic Planning, and V20 focal point primarily on V20 events
Provide in-country support, draft documents and contact relevant institutions as required;
Research will incorporate desk-based analysis of data as well as analysis of quantitative and qualitative data from consultations, etc. for V20 assignments;
Prepare drafts of documents including concept notes, briefers, event programs, meeting records etc.for V20 items;
Support in organizing events related to V20 activities
Perform other research, programmatic, organizational or communications tasks as requested by the supervisor.
Profile
Bachelor's degree in business, economics, finance and/or development.
Competencies, Skills & Languages
Proficiency in Microsoft Office programs (especially Word, Excel, and PowerPoint);
Proficiency with online finance platforms an advantage;
Strong relationship management and organizational skills, including the ability to identify clear objectives, prioritize effectively, and use time efficiently;
Excellent interpersonal, oral and written communication skills;
Ability to work collaboratively with colleagues, as well as individually;
Ability to work under pressure and meet tight deadlines;
Native proficiency in English is required.
Job requirements
Bachelor's degree or equivalent in development management, international relations, international development, international law, public policy, climate change or environmental policy and/or law, and/or related disciplines;
Experience in development work in sectors such as agriculture, energy, water, etc.
Proven experience and interest in organizing policy events and activities in a multi-lateral governmental setting;
Experience with communications, especially online: web and social media;
Aptitude for working according to specific guidance of senior staff and experts, and meticulous attention to detail;
Ability to multi-task, to work seamlessly with colleagues and counterparts from a wide range of nationalities and backgrounds and to work effectively within interdisciplinary and intercultural teams;
Excellent written and oral communication skills in English
Other
Contract Duration
12 months with possibility for extension/flexibility, working on an occupation rate basis of 100% (full-time).
Working Hours & Modalities
40 gross working hours, divided into 5 days of 8 hours (unless otherwise agreed with the Supervisor). Overtime may occasionally arise to be compensated only through time-off/leave.
Compensation
An all-inclusive fee per month of 1000 USD–monthly invoice to be submitted.
Accommodation & Travel
The assignment is based in…. Travel outside of … for V20 activities in authorized official missions will be at V20's expense in accordance with travel rules.
Application
Interested applicants should email their letter of interest, CV and a writing sample to secretariat@v-20.org by 15 October 2023 with the following subject line: [APPLICATION; NAME OF POSITION].
Related News
Read the founding documents 8 October 2015, Lima – Finance Ministers of the Vulnerable Twenty (V20), representing close to 700 ...
29-30 March 2016, Washington, DC V20 delegates will meet at Washington DC on 29-30 March for the first time since the foundatio...
13-14 April 2016, Washington, DC Following the 2nd V20 Working Group Meeting held last week, V20 delegates will convene in Wash...