Job Post: CVF/V20 Program Analyst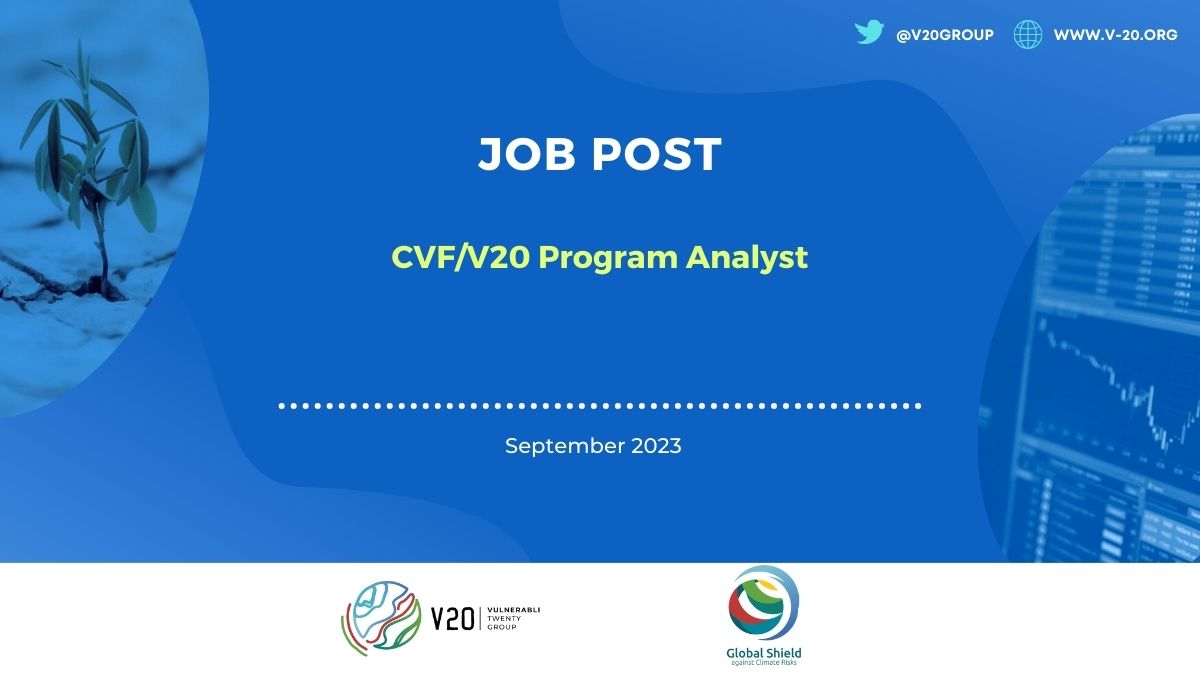 TERMS OF REFERENCE
CVF/V20 PROGRAM ANALYST
September 2023
Summary
| | |
| --- | --- |
| Role: | Program Analyst |
| Function: | Support CVF/V20 Secretariat |
| Start Date: | 01 November 2023 |
| Duration: | 12 months |
| Compensation/Benefits: | US dollars (USD) Competitive |
| Occupation Rate: | 100% |
| Contract Type: | Year-long basis consultancy with monthly fee |
| Location: | Remote or Accra, Ghana |
Organizational Context
The Vulnerable Twenty (V20) Group of Ministers of Finance of the Climate Vulnerable Forum, established in 2015, is a dedicated cooperation initiative of 68 economies systemically vulnerable to climate change. The V20 operates as a dedicated international collaboration of ministers of finance working to tackle climate change by mobilizing economic responses and programs and leveraging public and private finance for an enhanced response. In doing so, the V20:
Acts collectively to promote the mobilization of public and private climate finance and other sources of climate finance through international, regional and domestic mobilizations;
Develops improved and innovative approaches to financing climate action;
Engages in joint advocacy and other collective actions to shape global debate and policy development for effective economic and fiscal responses to climate change; and
Shares and exchanges best practices on economic and financial aspects of climate action.
Position Purpose 
The purpose of the consultancy is to assistant the CVF/V20 Secretariat with operational support of the CVF/V20 with secretariat functions and partner relations.
Reporting Relationships
The Program Analyst reports to the CVF/V20 Secretariat Leads.
Duties and Responsibilities
Program Analyst will focus on supporting the CVF/V20 Secretariat in the following areas:
Events & Communications:
Take responsibility for the organization of political events, technical policy events, including side events during key intergovernmental meetings, committee and expert group meetings of CVF/V20 members and high-level CVF/V20 meetings, developing program and agenda documents and overseeing different events' program execution, contacting and following up with participants, and guiding, overseeing and/or contributing to their organizational and logistical realization
Contribute to a variety of communications (web posts, website copy, public reports, press releases, social media posts, newsletters) and conduct media monitoring and track and share periodic updates on V20 coverage in the media;
Knowledge Management
Maintain an easily accessible e-drive for CVF/V20 workstreams, ensure resources are sorted and backed up to ensure security of data and information. 
Maintain an up-to-date registry of focal points and contacts in member states including details of partners and stakeholders.
Other:
Contribute as needed to any further activities related to CVF/V20 on the ground, including supporting logistical arrangements for country visits.
Perform other organizational, or communications tasks as requested by the supervisor.
Profile
Education/Enrollment Status
Bachelor's or master's degree in business, economics, finance and/or development.
Experience
At least 4 years of professional experience
Competencies, Skills & Languages
Proficiency in Microsoft Office programs (especially Word, Excel, and PowerPoint);
Proficiency with online finance platforms an advantage;
Strong relationship management and organizational skills, including the ability to identify clear objectives, prioritize effectively, and use time efficiently;
Excellent interpersonal, oral and written communication skills;
Ability to work collaboratively with colleagues, as well as individually;
Ability to work under pressure and meet tight deadlines;
Experience in development work in sectors such as agriculture, energy, water, etc.
Proven experience and interest in organizing policy events and activities in a multilateral governmental setting;
Experience with communications, especially online: web and social media;
Aptitude for working according to specific guidance of senior staff and experts, and meticulous attention to detail;
Ability to multitask, to work seamlessly with colleagues and counterparts from a wide range of nationalities and backgrounds and to work effectively within interdisciplinary and intercultural teams;
Excellent written and oral communication skills in English and other language is a plus.
Application
Interested applicants should email their letter of interest, CV and a writing sample to secretariat@v-20.org by 15 October 2023 with the following subject line: [APPLICATION; NAME OF POSITION].
Related News
Read the founding documents 8 October 2015, Lima – Finance Ministers of the Vulnerable Twenty (V20), representing close to 700 ...
29-30 March 2016, Washington, DC V20 delegates will meet at Washington DC on 29-30 March for the first time since the foundatio...
13-14 April 2016, Washington, DC Following the 2nd V20 Working Group Meeting held last week, V20 delegates will convene in Wash...