Job Post: Liaison Officer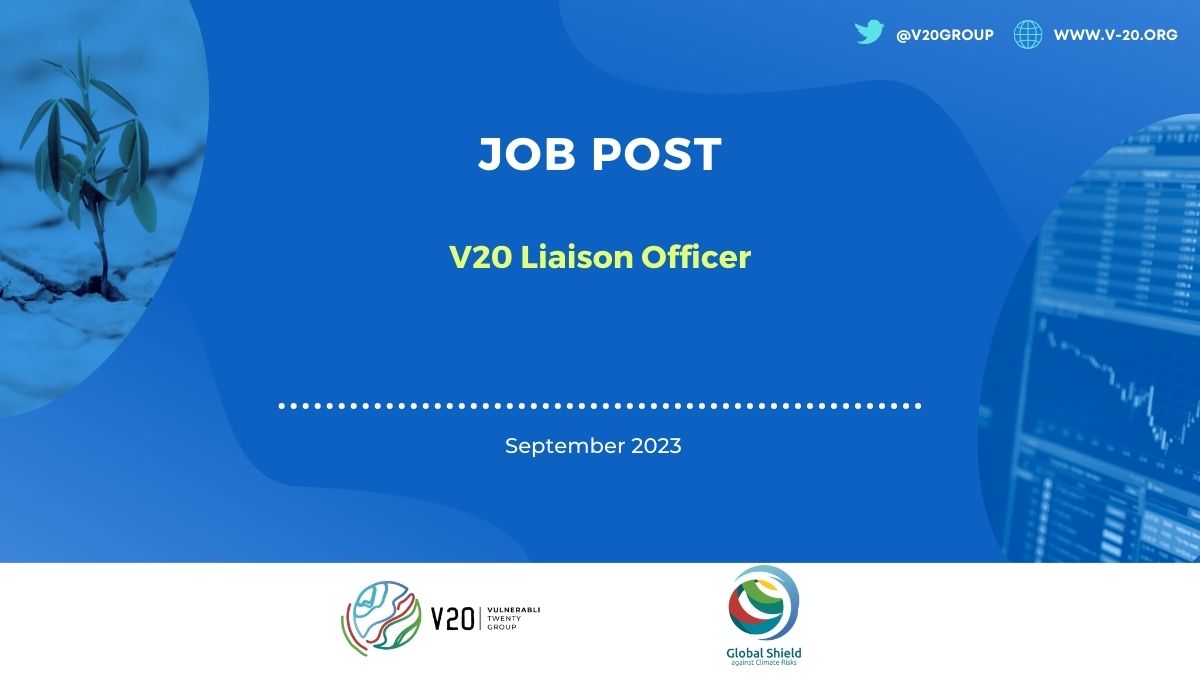 TERMS OF REFERENCE
V20 LIAISON OFFICER
September 2023
Summary
| | |
| --- | --- |
| Role: | V20 Liaison Officer |
| Function: | Liaising the implementation of the V20's work plan in assisting the V20 members with their cooperation, advocacy and partnerships activities as related to the V20 in Washington, D.C. |
| Principal Program: | Financing & Implementation |
| Start Date: | 01 November 2023 |
| Duration: | 12 months following 3-month trial period with possibility for renewal |
| Compensation/Benefits: | Internationally competitive |
| Occupation Rate: | Full-Time |
| Supervisor: | CVF/V20 Secretariat Leads |
| Contract Type: | International Consultancy |
| Location: | Washington DC, United States of America |
Organizational Context
The Vulnerable Twenty (V20) Group of Ministers of Finance of the Climate Vulnerable Forum, established in 2015, is a dedicated cooperation initiative of 68 economies systemically vulnerable to climate change. The V20 operates as a dedicated international collaboration of ministers of finance working to tackle climate change by mobilizing economic responses and programs and leveraging public and private finance for an enhanced response. In doing so, the V20:
Acts collectively to promote the mobilization of public and private climate finance and other sources of climate finance through international, regional and domestic mobilizations;
Develops improved and innovative approaches to financing climate action;
Engages in joint advocacy and other collective actions to shape global debate and policy development for effective economic and fiscal responses to climate change; and
Shares and exchanges best practices on economic and financial aspects of climate action.
Position Purpose
The V20 Liaison Officer role is primarily focused on liaising the implementation of the V20's work plan, supporting the Washington DC operations of the V20 members with their cooperation, advocacy and partnerships activities as related to development positive climate prosperity.
Reporting Relationships
The V20 Liaison Officer will report to the CVF/V20 Secretariat Leads.
Duties and Responsibilities
As detailed below, the V20 Liaison Officer will focus on contributing to the following V20 activities by performing the following core duties:
Provide in-country support, draft documents and contact relevant institutions and partners as required;
Research will incorporate desk-based analysis of data as well as analysis of quantitative and qualitative data from consultations, etc.;
Prepare drafts of documents including concept notes, briefers, event programs, meeting records etc.;
Support in establishing and maintaining effective communication channels with ED offices in the World Bank and IMF to corral more political capital for climate vulnerable countries within the World Bank and the IMF on issues relating to development positive climate action such as Climate Prosperity Plans (CPP) for adaptation, loss and damage, carbon financing and the low-carbon transition, etc.;
Facilitate meetings, conferences, or fora to foster coalition building with ED offices in the World Bank and IMF;
Liaise with international financial institutions in Washington DC including the Global Environment Facility as a key implementer of the V20 Loss and Damage Funding Program;
Liaise with US government and civil society allies to support V20 advocacy and needs;
Liaise with V20 and Partner Country embassies in Washington DC to support V20 activities;
Support the V20 and V20 Secretariat to facilitate engagements that strengthen/increase participation of Finance Ministries across the V20, G24, G7 and G20 in climate action;
Support in advancing the vision of the V20 amongst major stakeholders such as the Accra-Marrakech Agenda (A2M);
Work alongside CVF/V20 colleagues in Washington DC-related engagement;
Support the V20 Secretariat to track the implementation of CPPs and assessing their effectiveness in achieving intended goals;
Support the Climate Finance Advisor in liaising with Deal Teams regarding the financing of CPP Projects and other analytical assignments related to the objectives of the V20 Washington DC office ;
Monitor and report on the progress, achievements, and challenges of liaison activities to relevant stakeholders;
Perform other research, programmatic, organizational or communications tasks as requested by the supervisor;
Any other analytical and related assignment with regard to the above activities and V20 key activities.
All V20 personnel will be expected to contribute, from time to time, to responsibilities and duties outside of their core functions during specific phases of work where major events and activities demand contributions of all or much of the organization's personnel. Work during such phases may also be subject to alternative direction and supervision.
Profile
Education
Holder of a master's degree or equivalent (advanced degree) in Sustainable Finance, Economics, development management, international relations, international development, international law, public policy, climate change or environmental policy and/or law, and/or related disciplines;
Experience
At least 8 years of previous relevant professional work experience and a demonstrated interest in diplomacy, international policy, sustainable development, climate change, sustainable finance and/or economics. Experience engaging with multilateral development banks, foreign ministries, and embassies is a distinct asset.
Competencies, Skills & Languages
Understanding of critical issues in sustainable development, international climate change policy, and climate finance;
Demonstrated understanding of the administrative and political functioning of multilateral institutions;
Ability to write reports and produce briefing materials for high-level officials;
Proficiency in Microsoft Office programs (especially Word, Excel, and PowerPoint) and Google Suite;
Strong organizational skills, including the ability to identify clear objectives, prioritize effectively, and use time efficiently;
Excellent interpersonal, oral and written communication skills;
Ability to work collaboratively with colleagues, as well as individually;
Ability to work under pressure and meet tight deadlines; and
Proficiency in English and Spanish is required.
Other
Contract Duration
The initial contract duration stated in the Summary section may be subject to extension, although any extension is dependent on work performance, program needs, available finance and other factors.
Working Hours & Modalities
The yearly compensation for the Assignment is set at the Summary section.The V20 Liaison Officer is expected to work during core business hours of 10am – 4pm (local time).
Compensation
An industry-competitive remuneration at international rates will be provided based on the candidate's experience and working location.
Application
Interested applicants should email their letter of interest, CV and a writing sample to secretariat@v-20.org by 15 October 2023 with the following subject line: [APPLICATION; NAME OF POSITION].
Related News
Read the founding documents 8 October 2015, Lima – Finance Ministers of the Vulnerable Twenty (V20), representing close to 700 ...
29-30 March 2016, Washington, DC V20 delegates will meet at Washington DC on 29-30 March for the first time since the foundatio...
13-14 April 2016, Washington, DC Following the 2nd V20 Working Group Meeting held last week, V20 delegates will convene in Wash...