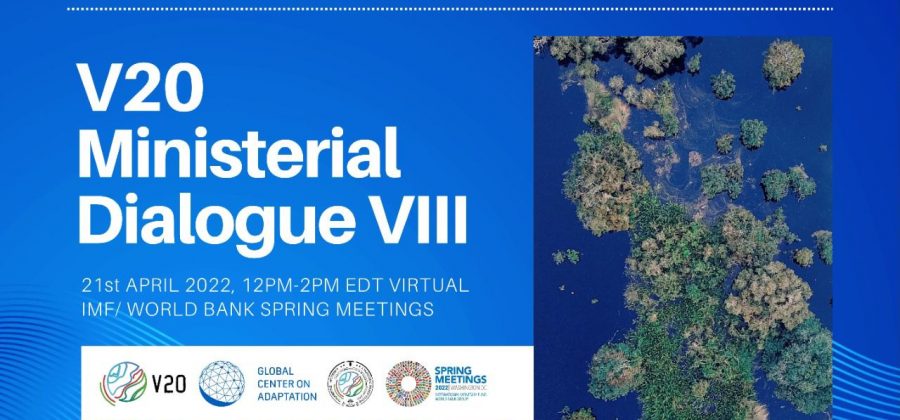 V20 to G7, G20: upgrade near-term emissions targets, establish a fit-for-climate prosperity global financial system
Washington DC, 21 April 2022 —  Finance ministers from the V20 Group of climate vulnerable economies pushed for partnership with the G7 and G20 to improve the global financial system. V20 leaders called on the G7, the G20, and the IMF to act decisively on loss and damage while ensuring the inclusion of vulnerable economies  in their decision-making processes. V20 ministers pointed to the InsuResilience Global Partnership as an example of collaboration deserving of replication.
Intensifying climate change impacts, consistent with projections from the latest  IPCC reports show growing losses and damages due to inadequate  adaptation responses and a prevailing 98% financial protection gap, which has today translated into a rapidly deteriorating macroeconomic burden for V20 members.
Currently, the 55 countries that comprise V20 represent 1.4 billion people.  The V20 held its Eighth Ministerial Dialogue in the World Bank headquarters on April 21, alongside the World Bank and IMF Spring Meetings.
The V20 Group of Finance Ministers released a Communique calling for urgent inclusivity in decision-making processes and to include the V20 in G7, G20, and IMF deliberations covering global financial reform. V20 ministers  remained critical of the sluggish effort by developed countries towards delivering finance with a greater sense of urgency and appropriate scale,quality,  V20  leaders cited:
The ongoing impact and recovery pace of the COVID-19 pandemic, which could undermine climate action and trigger further instability in the world economy given the growing impacts of climate change alongside a global energy price crisis driven by conflict in Ukraine.. Growing contingent liabilities due to worsening extreme weather events  combined with increasingly volatile, expensive, unreliable fossil fuels. are further harming their ability  to power their economies.
The key concern is funding and liquidity to deal with crises of growing complexity. V20 ministers  are painfully aware the liquidity crises that most are facing are not all of their making. A global financial system unresponsive to climate change realities mean,  more developing countries are forced into situations of fiscal distress or default, not because of long-term insolvency but due to a lack of cash on hand, hard currency, and exchange rate volatility and that shorter-term liquidity challenges is where the international public finance community and central banks can help.
Climate vulnerable economic managers  nonetheless see new opportunities in building on COP26 outcomes from the UN climate summit in Glasgow. Decisions that keep the 1.5ºC threshold target alive, including advances in international financing for loss and damage and the doubling of adaptation finance, need to be realized while  taking advantage of the current surge in fossil fuel costs to crowd investments into renewable energy and storage, while raising debt restructuring and credit enhancement as a climate resilience tool to safeguard creditors' assets and vulnerable economies and unlocking new climate resources and ambition.
V20 ministers thanked the Open Society Foundations and Children's Investment Fund Foundation for their support of vulnerable country interests by helping advance the group's Loss and Damage work through contributions to the CVF & V20 Joint Multi Donor Fund.
Quotes:
H.E. AHM Mustafa Kamal, MP, Minister of Finance, V20 Chair: "The world will remember the last two years as the period that exposed major fault lines in the global governance  system. The fissures run through supply chains, design of national economies, infrastructure, healthcare, social security systems, financial protection cover to  micro, small, and medium-sized enterprises which our people rely on for their livelihood, and the alignment of international investment with our national priorities, amongst others. These fault lines will remain even as the world recovers from the pandemic. Those most affected must help lead so they can convert  the challenges into opportunities. Vulnerable countries have agency  as showcased by the V20 instrument called Climate Prosperity Plans,  which will allow us to move from vulnerability to resilience to prosperity, based on strategic technology partnerships and investments."

H.E. Abul Kalam Azad, CVF Special Envoy: "The V20 can begin efforts to engage in dialogue with the MDBs and IMF to spur efforts that prioritize these improvements for the MDBs and IMF to be fit-for-climate prosperity. Equally important is collaboration from multilateral development banks through alignment of country financing programs with our Climate Prosperity Plans: We call on you for project preparation support and to support bringing down the cost of capital through credit strengthening, long-term financing and local currency financing."
About
Formed in 2015, the V20 Group of Finance Ministers is a dedicated cooperation initiative of economies systematically vulnerable to climate change. It is currently chaired by the People's Republic of Bangladesh. The V20 membership stands at 55 economies including Afghanistan, Bangladesh, Barbados, Benin, Bhutan, Burkina Faso, Cambodia, Colombia, Comoros, Costa Rica, Democratic Republic of the Congo, Dominican Republic, Ethiopia, Eswatini, Fiji, The Gambia, Ghana, Grenada, Guatemala, Guinea, Guyana, Haiti, Honduras, Kenya, Kiribati, Nicaragua, Lebanon, Liberia, Madagascar, Malawi, Maldives, Marshall Islands, Mongolia, Morocco, Nepal, Niger, Palau, Palestine, Papua New Guinea, Philippines, Rwanda, Saint Lucia, Samoa, Senegal, South Sudan, Sri Lanka, Sudan, Tanzania, Timor-Leste, Tunisia, Tuvalu, Uganda, Vanuatu, Viet Nam and Yemen.
FOR INQUIRIES CONTACT:
Nabiha Shahab, media@v-20.org
+62 813 1421 3432
www.V-20.org
Related News
2 December 2023, DUBAI: The Climate Vulnerable Forum and V20 Finance Ministers today held a stocktake of reforms in the internatio...
1 December 2023, DUBAI: Barbados has been selected to host the next presidency of the Climate Vulnerable Forum (CVF), a group of 6...
11 November 2023, DUBAI: The Climate Vulnerable Forum's (CVF) Founder, former Maldives president Mohamed Nasheed, met yesterday wi...