V20 Ministerial Dialogue VIII – 21 April 2022 Chair Opening and Closing Statements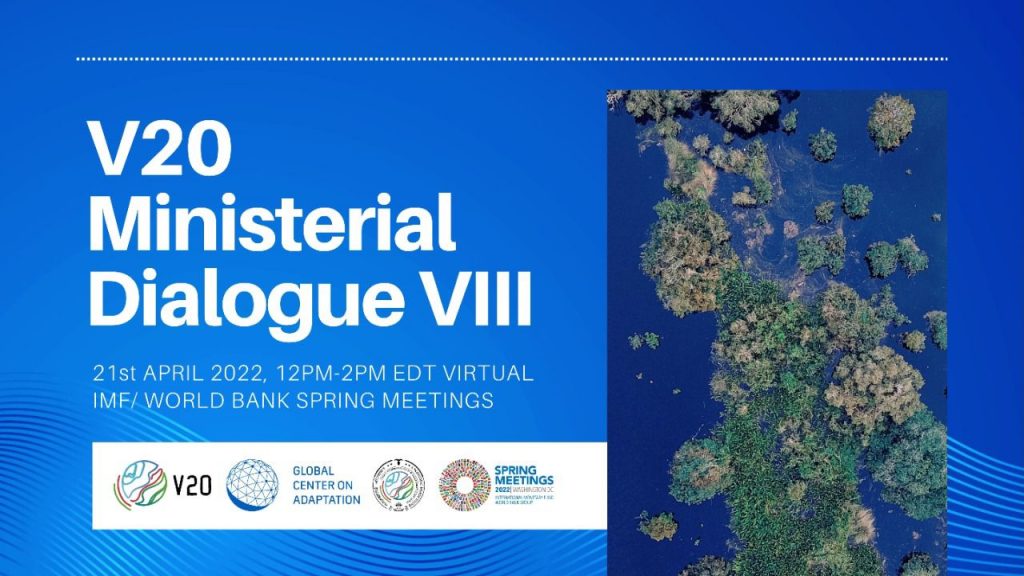 V20 Ministerial Dialogue VIII – 21 April 2022
Chair Opening and Closing Statements
10:00pm Dhaka time/12:00pm Washington DC time
Bangladesh – H.E. AHM Mustafa Kamal (Chair Opening)
Excellencies, ladies and gentlemen, it is a great honor and privilege for me to welcome you all to the Eighth ministerial dialogue of the V20. My dear friends, you are the iconic personalities of this planet world and working for the cause of humanity and the cause of saving our beautiful world and human civilization. My dear friends, today we are here for a novel objective to make a way out for mitigation and adaptation of the adverse impacts of the climate change on the environment. We are aware of the fact that climate change is not an issue of a single country, rather it is a global issue.
My dear friends, we all should raise our voices to involve all the concerned entities for a firm commitment to preserve this beautiful planet , world, for our future generations at its state better than what we received from our ancestors.
Excellencies, during the last two years, there has been a substantial progress in the V20's mission 2025. Due to your all out efforts and endeavors, today the progress of the V20 will be reviewed concerning the key initiatives and the achievements thereof.
As you are aware, my dear colleagues, Bangladesh was pleased to represent you the Mujib Climate Prosperity Plan for the decade till 2030 as a roadmap to achieve the socio-economic outcomes for our people as well as to meet our commitments under the Paris agreement and the SDGs. This plan is a vision for moving forward from vulnerability to resilience and prosperity based on strategic technologies, partnerships and investments that will help Bangladesh in becoming a developed nation, In sha Allah, by 2041, a commitment and a dream of our Honorable Prime Minister Sheikh Hasina.
Ladies and gentlemen, I take this opportunity to welcome 7 new members to the V20 group which are, Benin, eSwatini, Guinea, Guyana, Liberia, Nicaragua, and Uganda. My dear friends, our collective voices, as you will agree with me, will only become stronger and meaningful with your initiatives and active presence and participation. My dear friends, I am also pleased to announce that honorable finance minister, Mr. Ken Ofori-Atta, from the Republic of Ghana, will take over the presidency later this year of V20.
My dear friends and colleagues, it is great to know that 10 member countries in the V20 aim to kickstart their Climate Prosperity Plans, in 2022-23, with another 26 countries in the coming years. The V20 initiatives such as the Accelerated Financing Mechanism (AFM), the Sustainable Insurance Facility (SIF), Joint Multi-Donor Fund for a new Loss and Damage financing facility, Carbon Financing Development Program, the partnership with the Global Risk Modeling Alliance (GRMA) are a few instruments needed for the implementation of the Climate Prosperity Plans.
Excellencies, I also take this opportunity to thank the government and philanthropic entities who joined V20 members with the financial help to the CVF and V20 Joint Multi-Donor Fund administered by the UN, and I also humbly call upon for further donations to kindly strengthen their support for the implementation action agenda for the CVF and V20. I would also like to take this opportunity to call upon the World Bank group, ADB, AIIB, NDB, ISDB, G7, G20 and OSAD to extend their cooperation towards the climate prosperity plan programs.
Excellencies, I declare the Eighth Ministerial Dialogue of the V20 open to you all for taking it forward. Thank you all.
Chair Closing delivered by H.E. Abul Kalam Azad, Special Envoy of the Bangladesh Presidency on behalf of H.E. AHM Mustafa Kamal
Excellencies Finance Ministers of the V20,
Distinguished Colleagues from Partner Institutions,
This brings us to the culmination of today's Ministerial Dialogue of the V20. It is my pleasure to now deliver the closing remarks on behalf of the Chair of the V20. I thank you all for the active participation and implementation-oriented discussion today. These outcomes and decisions will certainly strengthen the V20 agenda, specifically focussed on progress to be achieved in 2022. And we have certainly heard much support for the V20 work as reported and placed before this Ministerial through the industrious efforts of the V20 senior officials. As we are in this unique virtual format because of the pandemic, I shall therefore move directly to the adoption of our decisions and communique.
The Dialogue resonated a primary concern of each of our member countries that due a lack of international support for adaptation and loss and damage, V20 finance ministries are already allocating significant and growing proportions of our public budgets to fund loss and damage in our affected communities. The issue of loss and damage is closely related to the adequacy or the lack of adaptation finance, which goes beyond the realm of climate justice and human rights, having a direct relevance to the current global priority of securing supply chains. There is also a lack of international cooperation and support on climate mitigation and adaptation. Here, to further strengthen our efforts, a study to build evidence on existing public expenditure in V20 countries is a welcome step. I believe this will also support the channeling of funds from the new Loss and Damage Financing Facility being designed by the CVF and V20, as well as inform the Global Shield initiated by the G7 Presidency of Germany.
Here, I strongly welcome the initial contributions to the loss and damage financing facility from our philanthropy partners who have demonstrated leadership of thought and initiative toward recognition of a primary concern of the V20.
In the long run, V20 recognises the importance of domestic and regional insurance markets to avert and minimize the loss and damage which needs to be the aim of an international financing mechanism, specifically of the InsuResilience Global Partnership and G7 Presidency's Global Shield to subsidize premiums and support early-stage market growth.
At COP26, the developed countries offered a Delivery Plan to reach and exceed US$ 100 billion per year by 2025 based on confidence from the data available. The V20 as a logical next step asks for an Implementation Plan in COP27 to ensure the newly pledged goal of doubling adaptation finance is likewise achieved and contributes to every year of the Delivery Plan. Such plans should demonstrate the scale and quality of finance that will be provided such that the vulnerable developing countries can budget for their climate action commitments in the NDCs, Long Term Strategies and National Adaptation Plans. The V20 also asks for clarity as the Delivery Plan indicated all types of financing – highly concessional loans, guarantees, equity and grants – to be a priority, whereas the V20 has today reaffirmed the need for grants-based resources for adaptation for most vulnerable communities many of whom are already too indebted.
The global financial system must make resources available to co-invest in adaptation, resilience and low-carbon prospects under the Climate Prosperity Plans of the V20, that seek broad technology partnerships, trade and strategic investments from G7, G20, and global investor community.
Here, our Ministerial deliberations also particularly focused on the role of MDBs finance in scaling up global finance flows to adaptation through private sector and institutional investors. Just as guarantees and other credit strengthening tools play a catalytic role in the scaling up of renewable energy and infrastructure projects, guarantees and credit enhancement from MDBs towards the V20 Accelerating Financing Mechanism will be instrumental to doubling of adaptation finance. All MDBs must also aim to commit at least 50% of their direct climate portfolio to adaptation or else a balance will continue to elude us. I urge the MDB officials present here today to take note of this special requirement of the V20. We are, once more, likewise calling on donors to come forward with an Implementation Plan for the doubling in international climate finance for adaptation by 2025. This will help to further restore confidence in climate action and international cooperation.
The V20 Climate Prosperity Plans also need a conducive environment to realize the ambition and goals which are at present hindered by high cost of capital and further market development. Therefore, the Ministers have welcomed recent initiatives of the World Bank and IMF to develop instruments and new funding mechanisms such as linking debt relief with climate action, financial cooperation guarantees and Resilience and Sustainability Trust. Still, more work is needed from the IMF in cooperation with the G7 and G20 on access to RST, the inclusion of all climate risks and debt limits flexibility in the context of climate change. The V20 can begin efforts to engage in dialogue with the MDBs and IMF to spur efforts that prioritize these improvements for the MDBs and IMF to be fit-for-climate prosperity. Equally important is collaboration from multilateral development banks through alignment of country financing programs with our Climate Prosperity Plans: We call on you for project preparation support and to support bringing down the cost of capital through credit strengthening, long-term financing and local currency financing.
Excellencies,
You have recognised that despite a globally recognised urgency for climate action, the efforts still fall short for near-term mitigation measures as the emission levels continue to rise. I add to your voice aimed at the G7 and G20 member nations to upgrade once more this year, and put in implementation mode, their mitigation targets for 2030. This will be key to keep to the 1.5ºC warming threshold goal of the Paris Agreement. Going beyond that level of warming would spell catastrophe for us and the entire planet.
The V20 nations, despite historically low emissions, continue to be committed to their fair share of action, and even go beyond. For this, I acknowledge the contribution of those governments and philanthropic entities that have joined the V20 members in contributing to the CVF & V20 Joint-Multi-Donor Fund administered by the UN. Further, I invite more donors to support the ambitious action agenda of the CVF and V20 in the critical decade till 2030.
I congratulate the Ministers and partners for a productive and forward-looking dialogue today and conclude the Eighth Ministerial Dialogue of the V20 Group of Finance Ministers.
Related News
4 December 2023, 12 pm, GCA Action Lab, Al Shaheen, Blue Zone Thank you to Vera Songwe, Professor Nick Stern, and to Amar Bhatt...
OFFICIAL REACTION AN OFFICIAL V20 REACTION TO THE AFRICA CLIMATE SUMMIT Nairobi, 7 September 2023 -- Coming from the 2023 Afri...
COLLECTIVE STATEMENT Emergency Coalition for Debt Sustainability and Climate Prosperity Recalling the Accra-Marrakech Agen...