Terms of Reference (TOR) for Developing Human Capital and Management Policies for the Independent Secretariat of the Climate Vulnerable Forum (CVF)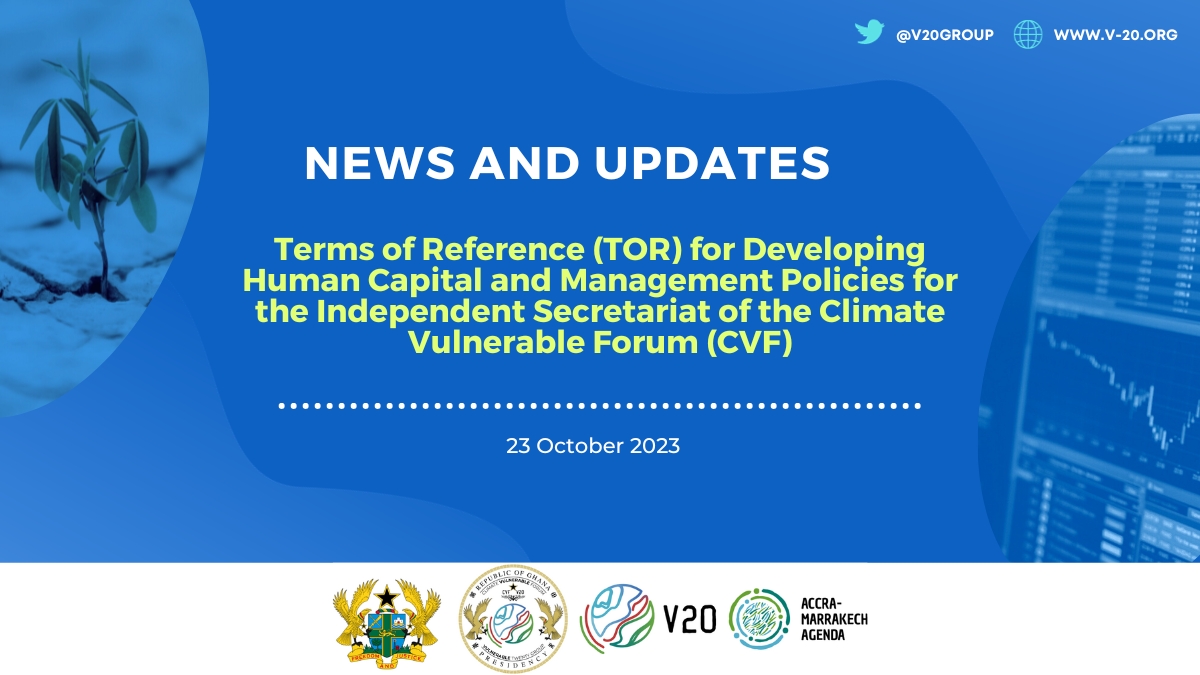 Introduction and Background:
The Climate Vulnerable Forum (CVF) is an international coalition of developing countries highly susceptible to climate change, and it aims to take decisive action against the global climate crisis. The CVF acts as a platform for member countries to work collectively towards addressing climate challenges. The primary objective of CVF is to mobilise ambitious efforts to combat climate change and to strive for maximal resilience and ensure climate resilient growth and prosperity for its members.
The Secretariat of the CVF plays a crucial role in supporting the forum's objectives. The establishment of an independent Secretariat for the CVF and the V20 Finance Ministers is recognised as a significant step towards achieving climate prosperity objectives. The Secretariat helps in ensuring that the coalition has a legal framework to facilitate the mobilisation of more resources, supporting member states in the development and implementation of their climate action plans.
The CVF/V20 Secretariat engages in various activities to drive the CVF's climate action agenda, including supporting collaborative efforts for climate financing, commissioning analysis and studies, developing a shared legislative framework to accelerate climate action, and engaging in international outreach. The CVF, through these actions, the Secretariat and associated entities within the CVF structure work towards fostering a more unified and effective approach to tackling climate challenges.
Objective/Rationale 
To establish a robust framework of human capital and management policies and specific job descriptions that cater to the unique needs of the CVF as well as with the establishment of the independent secretariat for the CVF and its related organs. These foundational elements are critical to the Secretariat's ability to recruit, retain, and manage a world-class team that can drive the ambitious goals of the CVF going forward.
Scope of Work
Development of policies across the following areas:
Diversity and Inclusion
Recruitment and Selection
Training and Development
Compensation and Benefits
Performance Management
Career Progression
Mobility and Relocation
Health and Well-being (including Work-Life Balance)
Ethics and Integrity
Dispute Resolution
Succession Planning
Data Protection and Privacy
Environmental and Sustainability Policy
Member State Engagement and Collaboration Policy
Project Management and Accountability Policy
Knowledge Management Policy
Stakeholder Engagement Policy
Technology and Innovation Policy
Risk Management Policy
Crisis Management and Communication Policy
Compliance and Legal Affairs Policy
Gender and Social Inclusion Policy
Resource Mobilisation and Financial Management Policy
Cybersecurity Policy
Scientific and Technical Advisory Policy
Procurement Policy
Travel and Expense Policy
Deliverables:
A comprehensive report on the assessment of current human capital and management structures.
Draft policies for each of the areas outlined in the scope of work.
An implementation plan for the newly developed or refined policies.
Evaluation Criteria:
The evaluation criteria for policies developed for the Secretariat of the Climate Vulnerable Forum (CVF) should be thorough and multi-faceted to ensure that the policies are effective, relevant, and beneficial in the long term for all the organs within the forum.
The policies must align with the CVF's objectives and comply with international laws. Their effectiveness in achieving outcomes, particularly in diversity, inclusion, and capacity building, needs evaluation, as does their efficiency in resource use. These policies should be flexible, clear, and comprehensible, ensuring stakeholder engagement and satisfaction. Their sustainability, measurability, and inclusivity are crucial, with a strong emphasis on equal opportunities. It's also vital to have established feedback, monitoring, and evaluation mechanisms to adapt policies as necessary. Furthermore, the policies should encourage innovation, knowledge transfer, and learning within the organisation, ensuring they address human capital needs and management challenges comprehensively.
Qualifications/Experience:
The qualifications and experience required of a firm tasked with developing human capital and management policies for an intergovernmental organisation like the Secretariat of the Climate Vulnerable Forum (CVF) would be quite extensive due to the complex and sensitive nature of the work. Here are some of the key qualifications and experience that may be required:
Extensive experience (preferably 10+ years) in human capital and organisational management, particularly within intergovernmental, international, or large-scale organisations.
Proven track record of developing and implementing human capital and management policies.
Experience working in diverse and multicultural environments.
Familiarity with international labour laws, standards, and best practices.
experience with intergovernmental organisations, or in sectors related to climate, environment, or sustainable development could be advantageous.
The firm should be able to demonstrate its capacity to handle the scope and complexity of the task, ensuring the development of policies that align with the objectives of the CVF Secretariat and the diverse needs of its member states.
Submission Guidelines:
Expression of interest to be submitted to secretariat@v-20.org by November 6, 2023.
Related News
Read the founding documents 8 October 2015, Lima – Finance Ministers of the Vulnerable Twenty (V20), representing close to 700 ...
29-30 March 2016, Washington, DC V20 delegates will meet at Washington DC on 29-30 March for the first time since the foundatio...
13-14 April 2016, Washington, DC Following the 2nd V20 Working Group Meeting held last week, V20 delegates will convene in Wash...