Job Post: Co-Director of the Global Shield Secretariat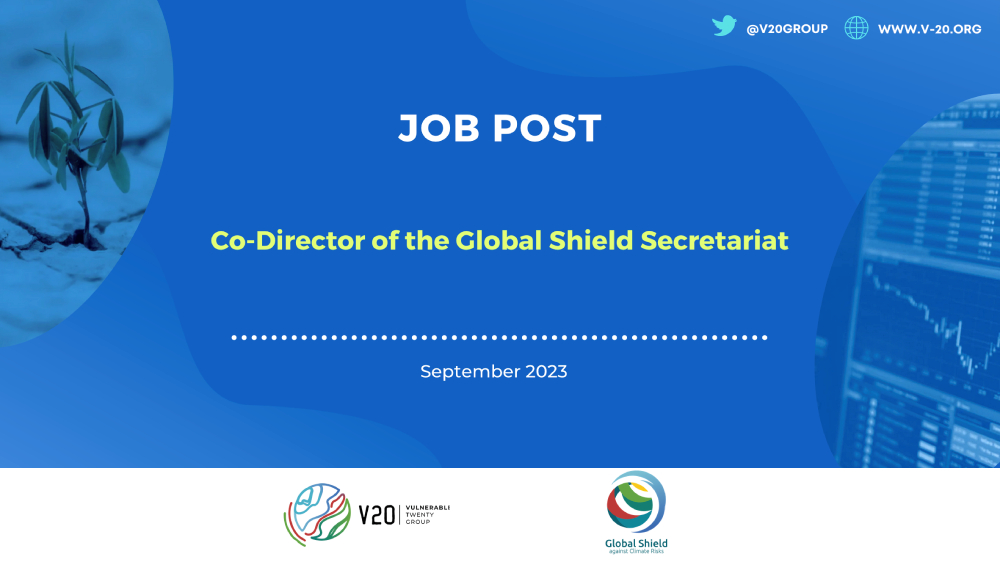 Terms of Reference: Co-Director of the Global Shield Secretariat, responsible for Global Strategy and Engagement
Summary
| | |
| --- | --- |
| Role: | Co-Director of the Global Shield Secretariat |
| Function: | Responsible for Global Strategy and Engagement |
| Start Date: | 1 November 2023 |
| Duration: | 2 years |
| Compensation/Benefits: | Competitive Salary |
| Occupation Rate: | Full-Time |
| Supervisor: | Co-Director will report to the Global Shield Co-Chairs and Board |
| Contract Type: | Full-Time contract |
Organizational Context
The "Global Shield against Climate Risks" was launched at COP 27 as a V20-G7 joint initiative for more and better financial protection against climate and disaster risks. The Global Shield aims at delivering fast and effective support to vulnerable countries and people in dealing with climate risks and related losses and damages. Through the Global Shield, affected countries can establish a comprehensive approach to their climate risk finance management. In an inclusive process bringing together all relevant stakeholders, country protection packages are developed, reflecting the needs and priorities of the country, based on a thorough risk analysis. These protection packages may include a variety of climate and disaster risk financing instruments, enabling quick disbursement of funds to governments and people most affected in the aftermath of a disaster. E.g. pre-arranged and trigger-based financing, social protection systems, designated disaster reserves in public budgets, contingent credits, and insurance solutions at macro, meso and micro level. Through the Global Shield, funding can be channeled to institutions that can deliver the needed support, and affordability barriers in countries are addressed.
The Global Shield Secretariat serves as the coordinating entity for the Global Shield, it provides the technical support for the implementation of the Global Shield objectives, coordinates within the Global Shield and amongst stakeholders, guides the fundraising and replenishment of global shield funds, drives the strategic development of the initiative and engages with relevant global climate policy processes.
Position Purpose:
The Co-Director of the Global Shield Secretariat, hired under this contract, holds the responsibility for global strategy and engagement, including the facilitation of in-country dialogues to ensure that each country's unique needs and priorities are addressed effectively.
Reporting Relationships: The Co-Director will report to the Global Shield Co-Chairs and Board as specified in the Global Shield Governance Charter.
Duties and Responsibilities
Leadership and Guidance of the Global Shield Secretariat
Supervisor of Engagement with Global Shield Countries: The Co-Director will oversee the work of in-country engagement, providing guidance and support to ensure effective coordination and collaboration among countries and partners of the Global Shield.
Co-lead and direct the 4 teams of the Global Shield Secretariat, 1. Admin / Operations 2. Strategy and Outreach 3. Implementation Support 4. Communication & Events plan and allocate work assignments together with the GIZ hosted Co-Director (ensuring an alignment between the Global Shield Secretariat mission and project activities and skill sets needed to do that work), mentor and appraise personnel (including supporting team development and helping team members to take responsibility and excel in their roles), participate in the recruitment and selection of new personnel;
Build the leadership and management structures of the respective teams together with the GIZ hosted Co-Director;
Develop a long-term strategy, policy and operational guidelines, particularly with a focus on achieving the Global Shield's objectives together with the GIZ-hosted Co-Director.
Lead Strategic Development of Global Shield and new ambition framework for 2025
The Co-Director will lead the strategic development of the Global Shield initiative, working towards the development of a Global Shield Ambition Framework and the proposal for a GS Sec beyond 2025 together with the GIZ-hosted Co-Director. This will involve regular review and refinement of the initiative's objectives, goals, and strategies to ensure effective implementation.
Lead Fundraising and Donor Relations 
The Co-Director will be responsible for establishing and maintaining relationships with partners, including governments, development partners, private sector organizations, and civil society organizations. This will involve regular communication, outreach, and collaboration to drive the development and advancement of GS partners.
The Co-Director will lead the development and implementation of a fundraising strategy to meet the financial needs of the Global Shield initiative. This will involve engaging with potential donors and partners, leading and overseeing the development of fundraising proposals, and meeting fundraising targets.
Together with the GIZ-Hosted Co-Director, manage the financial resources of the Global Shield Secretariat with integrity and ensure accountability towards donors.
Engagement and Representation in international CDRFI policy arena
The Co-Director will represent the Global Shield initiative in international policy processes, conferences, and events. This will involve engaging with policymakers and other stakeholders to promote the initiative and drive its objectives Positioning GS in Major Events: The Co-Director will ensure that the Global Shield initiative is well-positioned in major events, conferences, and other platforms. This will involve identifying relevant events, preparing relevant materials, and coordinating the participation of GS partners.
Profile: 
The Global Shield Secretariat is committed to promoting diversity in its hiring practices. As a joint initiative of the V20-G7, the Global Shield recognizes the importance of staff experience for its Secretariat from both the global North and South. To uphold this commitment, the Co-Director, to be hired for this position in the Global Shield Secretariat must be from a developing or emerging economy from the V20 membership. This hiring practice ensures that the Global Shield Secretariat operates with a diverse team that brings together different perspectives and experiences to address climate risks and disaster management effectively. The Global Shield Secretariat values diversity and strives to create an inclusive and equitable workplace that fosters innovation, collaboration, and excellence.
Education
BS, BA, MSc, MBA or PhD in a relevant academic discipline, such as economics, social sciences, environmental sciences, geography, or other relevant field.
Experience
At least fifteen years of progressively responsible experience related to climate risk management, climate policy and insurance in an international setting is required;
Strong track record in the leadership and management of projects in multicultural surroundings, preferably related to climate change impacts, climate risk management, climate risk solutions (e.g.developing international standards, convening high-level actors and relevant organisations) is required;
A minimum of ten years working experience in a non/OECD country is required.
Over 15 years of previous relevant professional work experience and a demonstrated interest in sustainable development, climate change, sustainable finance and/or environmental protection policy projects. Experience engaging with developing country institutions, developing country financial institutions, the UN system and multilateral development banks is a distinct asset.
Strong track record in the leadership and management of networks and teams is required, together with the ability to carry out work independently and in an international team;
Strong network in global community of climate risk management and insurance actors;
Demonstrated experience with climate policy at the international and regional level; partner organizations in the Global South and wider network, and practical experiences in managing public-private partnerships is an advantage;
Working experience in private sector organizations is required;
Excellent track record in securing third-party funding is required, coupled with demonstrated relationships with donors;
Demonstrated experience in successfully operationalizing projects that focus on an implementation on-the-ground in partnership with a range of stakeholders is required;
Demonstrated experience in collaborative, innovative partnerships in research-to-action is required;
Familiarity with the UN and/or other international institutions and mechanisms is required;
Other desirable skills: excellent networking, communication skills; initiative, strong conceptual abilities; sound judgment; resilience; excellent team player with strong interpersonal skills and the ability to work in a multi-cultural, multi-ethnic environment with sensitivity and respect for diversity; excellent team spirit.
Competencies, Skills & Languages
Understanding of critical issues in sustainable development, international climate change policy, and climate finance;
Experience in strategy and governance development,
Experience in project implementation in risk financing,
Demonstrated understanding of the administrative and political functioning of V20 members;
Ability to write reports and produce briefing materials for high-level officials;
Proficiency in Microsoft Office programs (especially Word, Excel, and PowerPoint) and Google Suite;
Strong organizational skills, including the ability to identify clear objectives, prioritize effectively, and use time efficiently;
Excellent interpersonal, oral and written communication skills;
Ability to work collaboratively with colleagues, as well as individually;
Ability to work under pressure and meet tight deadlines; and
Excellent proficiency in English is required.
Fluency in a V20 member country language, French and & or Spanish is an asset.
Remuneration: The compensation package for the CO-DIRECTOR of the Global Shield Secretariat will be competitive and commensurate with the candidate's experience and qualifications. The remuneration will include salary and benefits.
Contract Duration: The initial contract will be for a period of 2 years, with the possibility of extension based on performance and funding availability.
Starting date: 01 November
Location: Bonn, Germany / Remote
Application
Interested applicants should email their letter of interest, CV and a writing sample to secretariat@v-20.org by 6 October 2023 with the following subject line: [APPLICATION; NAME OF POSITION].
Related News
Read the founding documents 8 October 2015, Lima – Finance Ministers of the Vulnerable Twenty (V20), representing close to 700 ...
29-30 March 2016, Washington, DC V20 delegates will meet at Washington DC on 29-30 March for the first time since the foundatio...
13-14 April 2016, Washington, DC Following the 2nd V20 Working Group Meeting held last week, V20 delegates will convene in Wash...