CVF Founder President Nasheed Meets Dr Sultan Ahead of COP28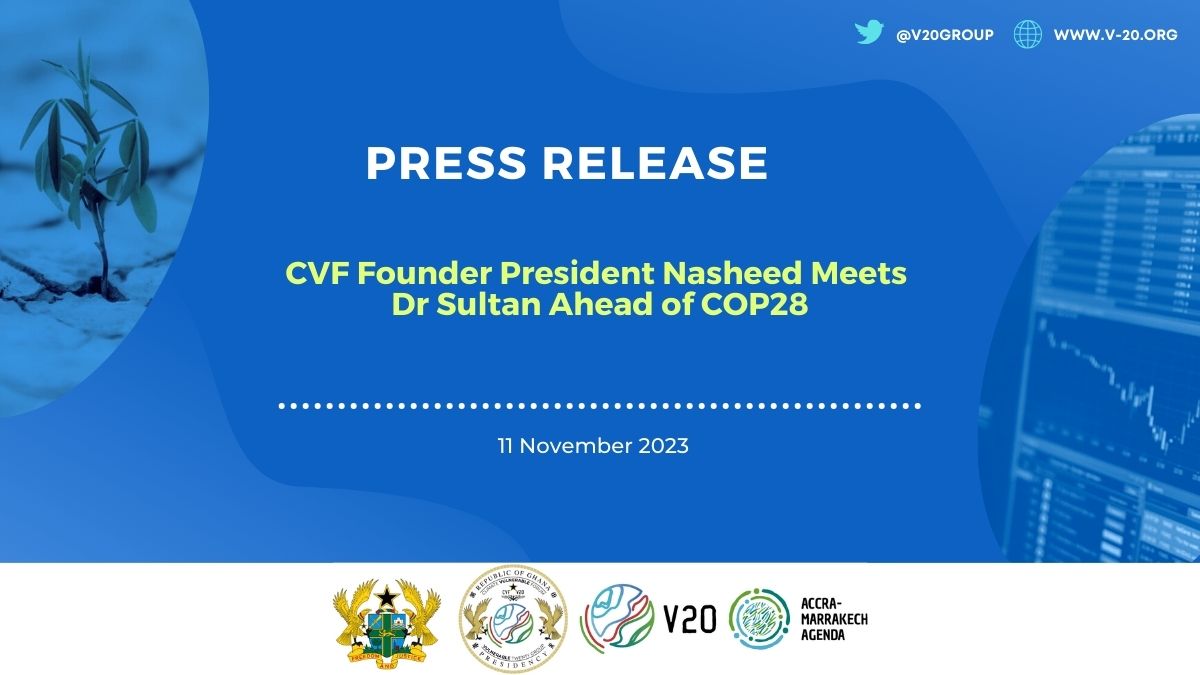 11 November 2023, DUBAI: The Climate Vulnerable Forum's (CVF) Founder, former Maldives president Mohamed Nasheed, met yesterday with COP28 president, H.E. Dr. Sultan Ahmed Al Jaber in Dubai. 
President Nasheed commended Dr Al Jaber on his leadership and the diligent preparations for the upcoming COP, and expressed his belief that the COP would produce outcomes favourable to the 68 climate vulnerable nations that make up the CVF. 
President Nasheed noted that over the last two decades, CVF countries lost over $500 billion in climate-related weather disasters and other climate impacts, even though their contribution to cumulative greenhouse gas emissions is tiny. In addition, many of these countries are crippled by debt burdens worsened by the climate crisis. 
The CVF is particularly concerned that the Paris goal of 1.5 degrees is slipping out of reach, and Nasheed called for an urgent increase in ambition in the NDCs of all parties to halve global emissions by 2030 and to take into account the conclusions of the Global Stocktake. 
"The climate emergency is an existential threat to the Maldives and all low-lying island states," Nasheed said. "I know from our conversations that Dr Al Jaber fully appreciates this and shares my concern for the impacts happening right now in the most climate-vulnerable countries. For our survival we need to phase out fossil fuels."
Dr Al Jaber and Nasheed also discussed the CVF's priorities for a strong COP28 outcome, including operationalising the Loss & Damage Fund towards a $100bn a year commitment, and delivering on the Global Goal for Adaptation. Dr Al Jaber also offered advice on how the debt crisis of vulnerable countries can be addressed within the COP meeting.  
President Nasheed also briefed Dr Al Jaber about the CVF's ongoing Climate Prosperity Plan programme. The goal of the Climate Prosperity Plans is to boost a country's economic growth and living standards, while simultaneously attracting private investments in the clean economy and transitioning to net zero emissions. CVF/V20 countries need an estimated $10 trillion investment financing this decade to support their clean energy investments as outlined in Climate Prosperity Plans. 
Underscoring that developing countries are not historically responsible for climate change but crucial to solving the crisis, President Nasheed said there was a big opportunity to work with the Gulf Cooperation Council on innovative finance and investment flows that could help CVF members gain access to capital for clean energy while contributing to net zero emissions targets. 
President Nasheed also noted that the CVF/V20 is becoming an inter-governmental independent institution and looks forward to making this announcement at COP28.
ENDS
Contact
CVF/President Nasheed media contact:
Paul Roberts