V20 Ministerial Dialogue XI: Securing Shared Prosperity and Sustainable Development in a Climate Insecure World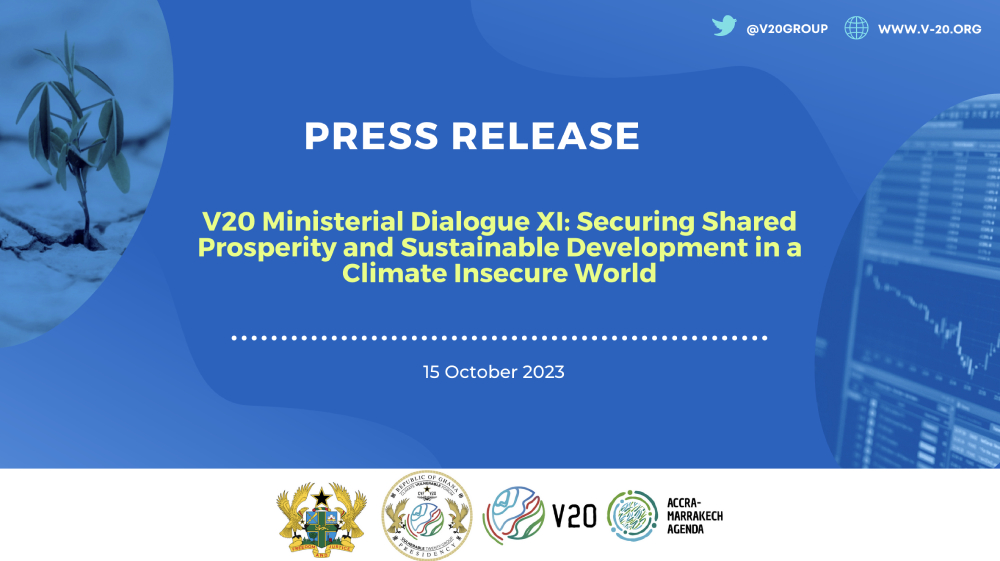 Marrakech, 15 October 2023 – The Vulnerable Twenty (V20) Group of Finance Ministers, comprising 68 countries from Africa, Asia, the Caribbean, Latin America, the Middle East, and the Pacific, today reiterated their call for urgent reforms in the international financial system. Member ministers also called for recognition of the V20 Finance Ministers as an official group in the International Monetary Fund (IMF).
The V20 countries' comparatively small IMF quotas have resulted in inadequate allocations of SDRs, necessitating a reliance on the unpredictable rechanneling of unused SDRs from more affluent economies. This inequity underscores the urgent need for a reevaluation of global financial governance to ensure that all nations can effectively address the challenges posed by these monumental crises. The imbalance in the IMF's quota system becomes even more evident when it comes to the allocation of Special Drawing Rights (SDRs), which are instrumental in responding to unforeseen global crises like the COVID-19 pandemic and climate change.
"The V20 nations, while collectively accounting for more than one-fifth of the world's population and 44.7% share of IMF programs, find themselves underrepresented with just 5.3% of the institution's votes. V20 ministries have considerable expertise that the IMF should benefit from given country experiences regarding the interconnections of climate, debt, and development. The IMF has much to gain from V20 experience by officially recognising V20 as a group. Trusting Kristalina's assurance to review the appropriate mechanism to make the V20 a Group in the Fund, we will look forward to COP28 as the next milestone," said V20 Chair and Ghana Minister for Finance Ken Ofori-Atta.
Ivan Machado Oliveira, Deputy Secretary of the Finance Ministry of Brazil, G21 chair in 2024, during his intervention at the Ministerial Dialogue invited "the V20 to have a seat as a guest to the G20 Sustainable Finance Working Group to contribute to the debate."
The V20 Group convenes during the Spring and Annual Meetings of the IMF and the World Bank Group to discuss and implement strategies aimed at mitigating the escalating impacts of the climate and debt crises while ensuring shared prosperity and sustainable development. Forty V20 economies are now in debt distress with a total debt stock of USD 585 billion, with multilaterals and private bondholders holding equal shares of debt stock at 36% each. In the adopted communiqué, V20 Finance Ministers called for the transformation of the global financial architecture, including through debt relief and new forms of liquidity and development finance with support from the Emergency Coalition on Debt Sustainability and Climate Prosperity, which the V20 helped establish.
The V20 Finance Ministers emphasized the need for urgent climate action by speeding up access to and scaling financial support to vulnerable nations. They called on multilateral financial institutions to accelerate collaborative efforts aimed at delivering a fit-for-climate global economy that prioritizes the most vulnerable.
In their last ministerial meeting in Washington D.C., USA, the V20 Finance Ministers called for tripling of the concessional International Development Association (IDA)[2] financing, a call that reverberated throughout the Africa Climate Summit in Nairobi last September.
Ministers showed particular support for fragile and conflict-affected states pursuing Climate Prosperity Plans while urging partners and donors to actively mobilize resources for shock-responsive social protection and increased solidarity with migrant and displaced communities.
"Far too many economies are in debt distress while dealing with worsening climate impacts at a time when they need to be investing in resilience and to reach SDG targets. It is imperative that resources of global institutions such as IDA and GCF are replenished, as the bare minimum. We need to make debt work for the climate, we need to revolutionize the way we manage risk, and we need a global deal on carbon finance and establish more ways to generate more resources," said Minister Ofori-Atta.
A subset of the V20 Finance Ministers led by V20 country Central Bank Governors launched efforts to deepen the group's grasp of the macroeconomic impacts of climate change. This includes sustained technical cooperation, particularly among V20 central banks, to incorporate climate risks into vulnerable country macroeconomic analysis and modeling tools. The V20 Finance Ministers aim to explore joint strategies for addressing liquidity challenges, including the exploration of IMF resources for climate initiatives in V20 member countries.
The Climate Vulnerable Forum or CVF, a heads-of-state group formed in 2009, established the V20 Group of Finance Ministers in 2015. The chair of the CVF also chairs the V20. Barbados expressed their interest to become the next CVF chair during the CVF Leaders' Summit on the sidelines of the UN General Assembly in New York last September. The new Chair of CVF-V20 will be announced at the UNFCCC COP28 in Dubai this December.
Since its establishment, the V20 Finance Ministers has been at the forefront of addressing the economic and financial impacts of climate change. The COVID-19 pandemic, debt concerns, energy security, food security, health, biodiversity, and climate change have together created complex challenges for the 68 CVF and V20 member states. The economies face significant financial risks, affecting debt sustainability, fiscal space, and sovereign risks. Over the last eight years, the V20 Finance Ministers have grown to represent 1.74 billion people, with a combined GDP of US$3.8 trillion. The group has emerged as a powerful advocate for climate-vulnerable nations, advocating for financial and economic solutions to combat climate change, secure sustainable development, and raise the welfare of their populations.
ENDS
NOTE TO EDITORS:
[1] V20's total external debt surged from $350.65 billion in 2008 to $929.14 billion in 2021. Over the period (2022-2029), the total debt service payment for V20 countries will reach USD 507 billion, peaking in payments at USD 91 billion for 2024.
The V20 launched the Emergency Coalition on Debt Sustainability and Climate Prosperity in the June Paris Summit to coordinate and propose, from a borrower's perspective, practical solutions on debt architecture reform that drives new investment in development-positive climate action. The aim is to ensure that debt relief/restructuring comes with new investments that will enable ability to realize development outcomes and debt sustainability. Equally important is the engagement with credit rating agencies. Thus, in terms of approaches to MDB participation in debt relief, opportunities exist around debt pauses; fresh injections of capital; and the urgent need to replenish and scale up The World Bank's Debt Relief Trust Fund.
The V20 Finance Ministers are developing Climate Prosperity Plans which tie in very well with the Country Climate and Development Reports (CCDRs). Development-positive climate action underscores the need for MDBs to integrate climate resilience into the design of lending operations so that countries are able to manage climate shocks and the vicious cycle between unsustainable debt and climate impacts can be broken. [2] The International Development Association (IDA), a part of the World Bank that supports the world's poorest countries by providing zero to low-interest loans and grants with the objective to boost economic growth, reduce inequalities, and improve people's living conditions with no repayments at all.
Resources:
Leaders Declaration
Accra-Marrakech Agenda (A2M)
Bridgetown 2.0
Emergency Coalition on Debt Sustainability and Climate Prosperity
V20 Ministerial Dialogue X Communique
Bangladesh Mujib Climate Prosperity Plan
Sri Lanka Climate Prosperity Plan – Preliminary Report
Finance for climate action: Scaling up investment for climate and development – Report of theIndependent High-Level Expert Group on Climate Finance
The International Monetary Fund, Climate Change and Development: A Preliminary AssessmentV20 Vision 2025
V20 Membership:
The V20 membership is comprised of 68 countries representing some 1.74 billion people and USD 3.8 Trillion in GDP from Afghanistan, Bangladesh, Barbados, Benin, Bhutan, Burkina Faso, Cambodia, Chad, Colombia, Comoros, Costa Rica, Côte d'Ivoire, the Democratic Republic of the Congo, Dominica, Dominican Republic, Eswatini, Ethiopia, Fiji, The Gambia, Ghana, Grenada, Guatemala, Guinea, Guyana, Haiti, Honduras, Jordan, Kenya, Kiribati, Kyrgyzstan, Lebanon, Liberia, Madagascar, Malawi, Maldives, Marshall Islands, Mongolia, Morocco, Mozambique, Namibia, Nepal, Nicaragua, Niger, Pakistan, Palau, Palestine**, Papua New Guinea, Paraguay, Philippines, Rwanda, Saint Lucia, Samoa, Senegal, Sierra Leone, South Sudan, Sri Lanka, Sudan, Tanzania, Timor-Leste, Togo, Tonga,Trinidad and Tobago, Tunisia, Tuvalu, Uganda, Vanuatu, VietNam, and Yemen.
**As a UN non-member observer state.
For media inquiries and interview requests, please contact:
media@v-20.org, www.v-20.org
Nabiha Shahab, +62 813 1421 3432 (on-site)
Denise Fontanilla, +63 917 851 4890
-End